Business Plan
2022-23 Business Plan
Over the coming year we're investing over £233m to support British construction. CITB's business plan will build on our achievements to date and our work will focus on tackling three key challenges facing the construction industry:
1. Responding to the skills demand
Each year, an estimated 50,000 new recruits are needed in the industry, but there are barriers to attracting new talent. Research indicates only 30% of potential new recruits feel that construction is 'for them'.
2. Developing the capacity and capability of construction training provision
Mandatory core occupational skills training needs to be delivered efficiently and conveniently.
3. Future skills needs
Industry wants to develop the non-technical skills of the construction managers of today and leaders of tomorrow. Behavioural skills training, digital skills and Net Zero ways of working are becoming increasingly important.
These challenges impact on each part of the talent pipeline, from inspiring people outside of the industry to choose construction as their career, through to retaining existing talent.  
Responding to the skills demand
We will raise the profile of construction careers through:
Go construct
Skillbuild
STEM Ambassadors
Tasters
We will support three key routes into the industry:
Apprenticeship and employer grants
Occupational traineeships
Onsite hubs
We will help to retain existing construction employees by setting up commissions that address:
Fairness, inclusion and respect
Mental health
Developing the capacity and capability of construction training provision
We will make it easier to access training through:
E-learning
Training Directory improvements
We will help industry overcome barriers to training by:
Improving our grant and funding systems
Offering targeted support to priority skills
Developing Training Groups to enhance localised training support
We will continue to:
Provide core skills training
Make sure NCC makes available vital training in niche and at-risk skills 
Addressing future skills needs
We will:
Continue standards development
Empower employers to address skills challenges in their locality
Conduct research that informs our future strategies, plans and products
Set up commissions to identify areas that need further investment
We will enhance our support for non-technical skills such as:
Apprenticeship and employer grants
Occupational traineeships
Leadership and management in construction
Net Zero
Onsite hubs
Digitisation
Your Levy - over the next year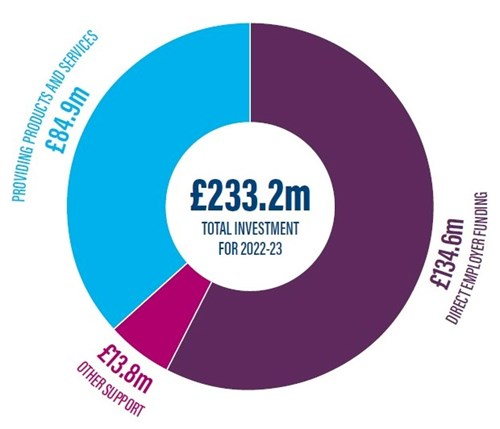 Investment breakdown:
£233.2 million - Total investment 2022 - 2023
£134.6 million - Direct employer funding
£84.9 million - Providing products and services
£13.8m - Other support
Your Levy - over the next 3 years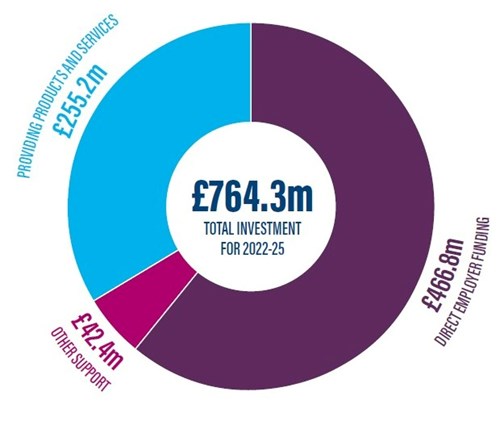 Investment breakdown:
£764.3 million - Total investment 2022 - 2025
£466.8 million - Direct employer funding
£255.2 million - Providing products and services
£42.4m - Other support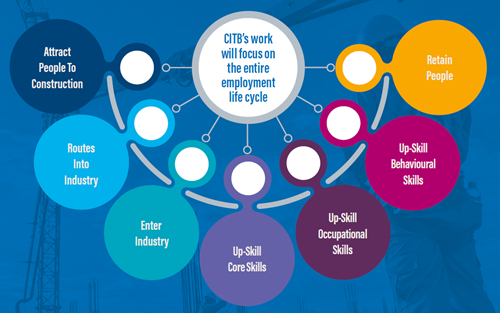 CITB's work will focus on the entire employment life cycle:
Attract people to construction
Routes into industry
Enter Industry
Up-skill core skills
Up-skill occupational skills
Up-skill behavioural skills
Retain people
10% increase in the number of people visiting Go Construct
4,600 taster opportunities available
5% increase in apprenticeship starts
67% apprenticeship completion rate
6,750 onsite hub experiences delivered, with 6,450 people site-ready or job starters
200 learners starting Occupational Traineeships with construction employers
Empowering employers
Our Customer Engagement team engage with approximately 25,000 businesses every year:
● Empowering employers to determine their local skills needs
● Tailoring support for smaller firms
● Supporting more employers to take on an apprentice
Working with Government
We'll work with UK Government, local authorities, training providers and employers to build a better construction industry for Britain.
Working with our Nation Councils
We collaborate and consult with industry and Nation Councils to ensure our work is suitable for England, Scotland and Wales.

We support grants and funding at a nation level, responding to regions' differing needs and challenges.
Construction Leadership Council
In April, the Construction Leadership Council published an update to its sector-wide skills plan for construction and the built environment. It contained actions for all its partners, including CITB, and this Business Plan provides the context and focus for how we will deliver our commitments.
Developing our people
We'll invest in our people to make sure customers are at the heart of everything we do and we have the right culture, capabilities and values to support industry.
Skills Stability Plan
---
In June 2020, CITB published its Skills Stability Plan, which sets out how CITB is supporting employers' skills and training needs as the industry restarts following the impact of COVID-19.
The Skills Stability Plan describes the prioritisation and skills investments in the April 2020-March 2021 financial year. The priorities are to protect apprenticeships and provide direct funding to employers to adopt new ways of working needed in the wake of COVID-19 and retain skills. 
CITB will work with other industry partners to match displaced workers with new opportunities, including through exploring a talent retention scheme. This will build on the support already provided to help apprentices complete their programmes including through up-front grant payments to current year 2 and year 3 apprentices, assistance to match displaced or at-risk apprentices to new employers and developing more alternative options such as Shared Apprenticeship Schemes.
The Plan has also prioritised the Grant Scheme and direct funding for employers through the Skills and Training Funds, with £8m earmarked for small and micro businesses, £3.5m for medium-sized businesses, with a £3m Leadership and Management Fund for large firms. This will help employers train to adapt to the new working environment and update the skills needed by their business to help recover.
Read the Skills Stability Plan
Return to top