Business Plan

Business Plan 2023-24: Putting Employer's in the Driving Seat
Over the coming year we're investing over £253m to support British construction. CITB's business plan will build on our achievements to date, and our work will focus on tackling three key priority areas:
Improving construction's people pipeline
Creating defined training pathways
Delivering an efficient training supply
1. Improving construction's people pipeline
The labour market has over a million vacancies and approximately 250,000 are seeking employment. Construction needs a stronger pipeline of talent and more direct access to skilled jobs. However, there are barriers to attracting new talent. Research indicates potential new recruits don't have positive perceptions of the industry. As a result, only 30% feel that construction is 'for them.'
2. Creating defined training pathways
A skills system where training pathways are defined and flexible, with achievements validated through the Construction Training Register, is one of our top objectives. In 2023-24 CITB will produce qualification and training pathways for 20% of the industry's additional skills demands, focusing on priority occupations such as bricklaying, carpentry and joinery.
3. Delivering an efficient training supply
An effective training supply is imperative to meet the skills needs of industry. Employers have told us they are looking to upskill their workforce to fill gaps and show their employees that they are valued and willing to pay for training to improve their careers. In addition, mandatory core occupational skills training needs to be delivered efficiently. To make this work, CITB will provide financial incentives to help businesses to do more training and work with providers to ensure good quality training is available when and where it's needed.
These challenges impact on each part of the talent pipeline, from inspiring people outside of the industry to choose construction as their career, through to retaining existing talent. 
Improving construction's people pipeline
We will raise the profile of construction careers through:
Go construct
Skillbuild
Go Construct STEM Ambassadors
We will support three key routes into the industry:
Work experience and Tasters
Apprenticeships and the New Entrant Support Team
Onsite Experience hubs
We will help to retain existing construction employees by setting up and supporting:
Fairness, inclusion and respect initiatives
Mental health initiatives
Creating defined training pathways
We will:
Continue our ongoing cycle of updating standards, to ensure training delivers the skills industry needs now and in the future
Work with the Welsh and Scottish Governments to influence apprenticeships, on industry's behalf
Produce nine qualification and training pathways, starting with occupations that include a high volume of the industry's workforce • Continue working with CLC and facilitating sector groups to agree competency frameworks for: Cladding Occupations (Rainscreen), Roofing Occupations, Interior Systems (Drylining) and Associated Industrial Services (Passive Fire).
Delivering an efficient training supply
We will:
Expand our network of recognised training providers
Continue to provide essential core skills training
Increase the number of people trained through the National Construction Colleges (NCC) by 7%
Support programmes designed to address shortages in trainers and assessors
Continue to invest in Leadership and Management training and offer a range of training options.
Your Levy - over the next year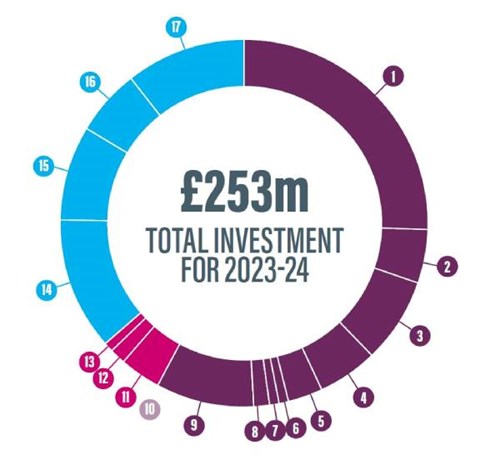 Investment breakdown:
£253 million - Total investment 2023-24
£149.2 million - Direct employer funding
£89.6 million - Providing products and services
£14.2m - Other support
Your Levy - over the next 3 years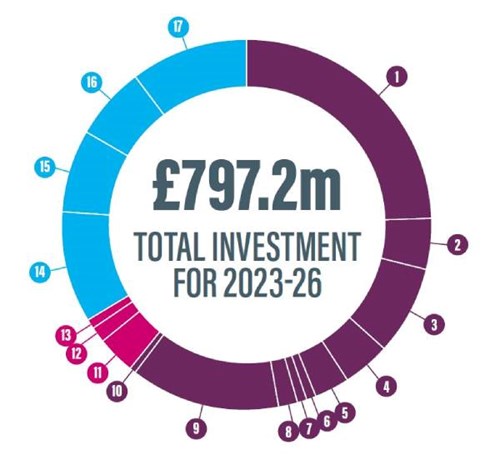 Investment breakdown:
£797.2 million - Total investment 2023-26
£487.8 million - Direct employer funding
£265.5 million - Providing products and services
£43.9m - Other support
Our plan cements the work we'll be doing to address the priority areas. Our partners are central to our work, and this is how we will work with them.
Putting employers in the driving seat
CITB will empower employers to determine their local skills needs through Training Groups and other employer networks. In August 2022 we announced an £800,000 investment in a new Employer Network Pilot project, a radical new venture that will improve the way industry receives funding for training. This work will continue in 2023-24. We have allocated £3m in 23-24 and £6m per year after that, as well as continuing to fund Training Groups with £3.3m.
Working with Government
As part of this work, we will collaborate to ensure there are clear progression routes into the industry and to help people upskill through the skills system. This includes supporting the development of new apprenticeship models, T Levels, and ongoing Government qualifications reviews.
Working with our Nation Councils
Our Nation Councils are one way we collaborate and consult with industry to help us make sure that our work meets the needs of England, Scotland and Wales. Our annual Nation Plans complement this Business Plan. These plans are supported by our Councils and include specific interventions and projects for each nation in line with the three challenges. Specific projects continue to be targeted at a national level, where appropriate, to respond to differing needs and challenges.
Working with industry stakeholders
Our strong and positive working partnerships with Prescribed Organisations and Federations are key to achieving our plan. To ensure employers' voices are represented, we will work closely with our Prescribed Organisations on all three construction challenges to benefit the entire industry. Their insight and support remain a key component for our careers, standards, qualifications and training initiatives.
Alongside our work with industry bodies representing employers of all sizes, we will continue to work with and contribute to the Construction Skills Delivery Group, the Infrastructure and Projects Authority, Government Departments and the Construction Leadership Council.
Skills Stability Plan
---
In June 2020, CITB published its Skills Stability Plan, which sets out how CITB is supporting employers' skills and training needs as the industry restarts following the impact of COVID-19.
The Skills Stability Plan describes the prioritisation and skills investments in the April 2020-March 2021 financial year. The priorities are to protect apprenticeships and provide direct funding to employers to adopt new ways of working needed in the wake of COVID-19 and retain skills. 
CITB will work with other industry partners to match displaced workers with new opportunities, including through exploring a talent retention scheme. This will build on the support already provided to help apprentices complete their programmes including through up-front grant payments to current year 2 and year 3 apprentices, assistance to match displaced or at-risk apprentices to new employers and developing more alternative options such as Shared Apprenticeship Schemes.
The Plan has also prioritised the Grant Scheme and direct funding for employers through the Skills and Training Funds, with £8m earmarked for small and micro businesses, £3.5m for medium-sized businesses, with a £3m Leadership and Management Fund for large firms. This will help employers train to adapt to the new working environment and update the skills needed by their business to help recover.
Read the Skills Stability Plan
Return to top