Diary of a CITB Engagement Adviser
My job is to help firms get all the funding they're eligible for, writes CITB Engagement Adviser Abbie Langridge.

Each week, I meet construction employers in north Essex to find out how we can support them.

CITB Advisers support employers to take on apprentices, upskill their staff and help their businesses grow.

Our work helps address construction's skills shortages and improves productivity.

I like my work and I enjoy changing people's perceptions of CITB.

For example, there are a few companies I've worked with who weren't getting anything back from CITB - now they have apprentices, grants and funding in place.

One firm wasn't claiming their apprenticeship attendance grant.

After a quick meeting, where I explained how to do it, they now have £2,500 set up for each year of the apprenticeship.
Support
I'm one of 82 Engagement Advisers working in England, Scotland and Wales.

If you think you're not getting enough value from us, my advice is contact your local Engagement Adviser. They'll see what you're eligible for then help you apply for it.

A good example of this type of teamwork is DF Brickwork of the Fisher Group.

Let me show you how I helped them and what a typical work week of mine looks like.
Approved
DF Brickwork are a Bricklaying company in Colchester.

I contacted them in October '21 to see how they were doing with their Levy returns (if your levy returns aren't in you can't access grants).

To be honest, they were frustrated. They said: 'We don't get anything back from you.'

I helped them get back up to speed. We had a Teams call then resolved issues bit by bit.

Firstly, I helped them get access to their CITB portal.

Then we got their Levy returns sorted out.

They then made a grant claim and appeal for all the training they did in the last year.

That got approved so their thoughts on CITB have slowly begun to improve.

At the minute they've got over £50K grants approved, 20 apprentices, each attracting a £2,500 per year in attendance grant and a £3,500 achievement grant on completion of each apprenticeship.
Diary
Here's a guide to a recent working week of mine.

And by the way, if you're interested in a construction career – it's not all site work - you can see how I got started at the end.
Monday
9am start. Checked emails and Teams. Prepared for an employer meeting at 11am. Looked at companies' sizes and grants, what firms are getting back from CITB (the skills and training fund is based on PAYE numbers).

TJ Evers is a good example. I found they were eligible for £10K a year, the top bracket of the Skills and Training Fund. I put them at the top of my list! I spoke with them. Asked if they had any apprentices – if they have, and I can't see any apprenticeship grants, they're missing out on money.

They said they'd be taking on a carpentry and bricklaying apprentice. Great, I put in the diary so they can get applications in. They're eligible for £8.5K on each one.

I talked them through what else they could have got and the application form.

Updated our Customer Voice. That's where Engagement Officers feedback what we spoke about with firms back to our managers. We review that monthly, so we can be responsive to Levy payers' needs.
Tuesday
Supported two employers with their completion of funding. Had a quick call to help them sign it off and open a new fund

New registration calls – I introduced myself to companies who have recently registered with CITB. I sent an email and uploaded details to our system
Wednesday
Met Colchester Institute College to discuss apprenticeship grants available to employers – can we get the message out?

Call with Arc Group about their project starting in January in Maldon, Essex. We discussed social value work we can do with the community
Thursday
Quiet afternoon (needed!) checking emails and following up any outstanding actions
Friday
Helped a company with a new skills and training fund, the aim is to get them up to the £10k maximum for their company size.
Abbie's CV
Abbie has enjoyed a variety of roles since joining CITB. She shows that there's more to construction than mucky boots.

2016-18: A-level student: Economics, Psychology, Politics at Southend High School for Boys Sixth Form

Sept '18: Two years Apprenticeship with the CITB Press Team. Gained a Level 4 Diploma in Public Relations and Communications

Sept '20: Assistant Government Relations and Policy Adviser. I wanted to understand about industry and employers, what they're going through. What can I help with?

Sept '21: Customer Engagement Advisor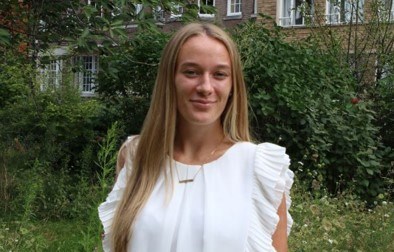 "I like going to careers fairs and speaking to someone from school, year 10 or 11. It's great when they say things like: 'You've been really helpful on what construction has to offer, I'm going to do the Go Construct Quiz!'"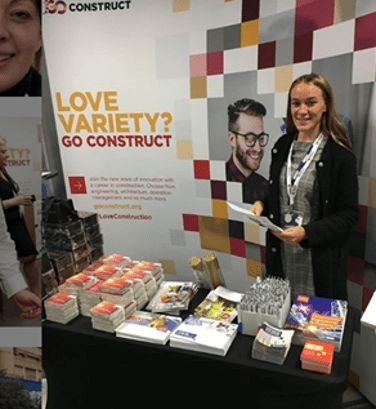 Return to top