Working together in Sedgemoor to unlock potential
Sedgemoor District Council needed a better way to encourage local businesses to employ local people – and the National Skills Academy for Construction was perfect for the job.
Sedgemoor District Council in Somerset wants to get more local people into local jobs. When businesses make planning applications for a construction project, it set up Local Labour Agreements as a condition for development.
The agreements state simply what percentage of the new workforce has to be local. But having made an agreement, it was hard to get information from businesses confirming that they had kept their side of the bargain – and harder still to enforce the agreement if they had not.
Missed opportunities
"Enforcement wasn't the only problem," says Caroline Derrick, Employment, Skills and Training Manager at Sedgemoor District Council. "Since the economic downturn, construction has been facing significant skills shortages.
"The Local Labour Agreements weren't centred on skills. The onus was on businesses to employ locally, but the skills they needed weren't always there.
"It was a missed opportunity twice over. Our local people weren't getting the jobs – and they weren't getting the skills to get the jobs either."
A client based approach
"We saw that there was a huge opportunity to embed training in local projects," Caroline says, "and the NSAfC's client based approach (CBA) does exactly that."
With CITB's help, the CBA enables public sector bodies to develop a strategy to support the inclusion of apprenticeships, work placement and other training opportunities.
This is done through an industry-led framework based on benchmark targets agreed according to the type and cost of the project. The benchmarks are proportionate and achievable, having been developed in close collaboration between CITB and the industry.
 "Our pilot project to gain NSAfC accreditation was with Redrow, the housebuilder, who were developing the Chilton Waters housing project near Bridgwater," Caroline says.
"It was a great success and from there we established an effective working procedure for future projects."
On the job
"My job is to forge a strong working relationship with the main contractor, and explain the benefits of having the CBA in their contract.
"It's really important to reassure them about the benchmarks – the work placements, on-site training, careers advice, job creation and so on.
"They need to know it's a collaborative effort. If they don't hit the targets, it's the relationship that's failed, not the contractor.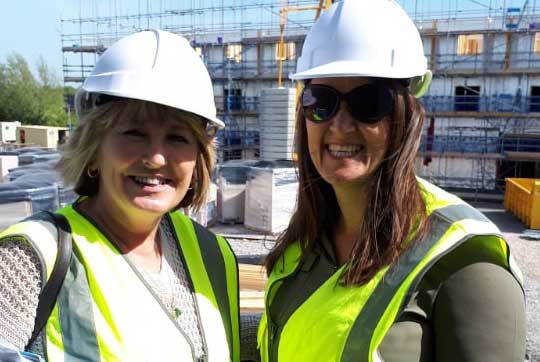 Snapshot
Who: Caroline Derrick
Role: Employment, Skills and Training Manager
Organisation: Sedgemoor District Council
Challenge: Meeting skills shortages so that the region can respond to a higher than average growth in construction
Impact: Significant skills improvements and strong demand with 20 live CBA projects ongoing, and 21 more on the way
Hints and tips: "Develop a strong relationship with your main contractor and ensure they are comfortable with collaborative working. Learn about construction and ask a lot of questions!"
"Local businesses are gaining from the investment in skills and the improved supply of talent."

Caroline Derrick, Employment, Skills and Training Manager, Sedgemoor District Council
"But once they embrace it, they really embrace it. They understand its value.
"I help project managers to support recruitment and training; and go to schools, colleges, job centres and the armed forces to raise awareness of the opportunities and possibilities of a career in construction.
"I also meet regularly with CITB to keep them informed of progress. My CITB adviser, Karen Blacklaw, has been very supportive – amazing, actually."
Building on success
"We set up an employment and skills centre, called "Under Construction", to provide local people with the skills, motivation and work ethic to get ahead, which maps well with the CBA.
"We've now used the CBA on a huge variety of projects: new roads, housing, shops, hotels, even an innovation centre.
"We're currently working on 20 live projects valued at £79 million and we have another 21 projects in the pipeline.
"Through our CBA projects, we've created more than 180 apprenticeships, new entrants or graduate positions, overseen more than 230 qualifications or certifications gained by contractors, and more than 600 training weeks on site.
 "Best of all is the impact it's having on our community. Local businesses are gaining from the investment in skills and the improved supply of talent.
"And whether local people are unemployed, underemployed or already employed, they can see that there are big chances to train, reskill or upskill to get the jobs they want."
Return to top