Providing MORE than just homes
Housing provider and charity, Sanctuary Group, puts social value for the community at the heart of its work – which is why the National Skills Academy for Construction is such a good fit for its home-building programme.
Colleen Eccles, head of development – relationship management for Sanctuary Group, coordinates a national programme of work connecting Sanctuary's development sites to the communities where new homes are being built and regenerated.
Known as MORE, the programme incorporates Sanctuary's membership of the National Skills Academy for Construction (NSAfC), which helps the Group provide jobs, apprenticeships and training in construction and related fields of work.
With over 100,000 homes already owned and managed, Sanctuary aspires to build 30,000 new homes in the next 10 years, including with its in-house construction team. The homes will cover a range of tenures to help more people get on to the housing ladder and to meet the need for additional rented accommodation.
"Due to the scale of our development programme, we rely on strong and positive relationships with partners to ensure we bring our values to life for our customers," says Colleen. "Our values underpin our MORE work and focus on local and global issues of concern and aspiration."
Working with partners
The NSAfC has provided Sanctuary with a framework for working with partners, including ambitious employment and skills targets for its procurement and contracting processes.
"This ensures we lever the best deal we can for local communities by working with partners who will sign up to positive employment and training outcomes," added Colleen. "We have also been able to influence the development of NSAfC guidance to best suit the needs of our business and the communities which we serve."
"The key for us in delivering positive outcomes is to ensure that we have the reach in the communities where we are developing. Through years of experience, we have established an approach which values the different levels of community engagement, and have learnt that sometimes simply supporting one individual has a widening impact across a community and strong return on investment. We call this, the ripple effect."
The ripple effect
"We believe there is a strong link between the delivery of employment and skills, and wider community intervention. Gaining local trust and developing strong community relationships with support agencies and local groups are valuable links for a successful business.
"It is important to ensure there is a real appreciation of investment and impact.  Investment is what resource, skill and time we can put in. We should be open and clear about what investment we can make and ensure we are ambitious about impact. 
"Community benefit should not be an 'add on' to a business, but at the heart of everything we can offer our customers and the communities in which they live. By focusing on community investment and impact, we can make a positive change beyond just providing homes, and leave a lasting legacy."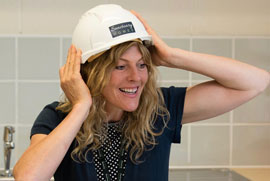 Snapshot
Who: Colleen Eccles
Role: Head of Development – Relationship Management
Company: Sanctuary Group
Project: MORE
Challenge: Drive positive impact in communities where new homes are being developed
Impact: Community investment creating employment and training opportunities for local people
Hints and tips: "Gain local trust to develop strong community relationships"
"Community benefit should not be an 'add on' to a business, but at the heart of everything we can offer."
Colleen Eccles, Head of Development – Relationship Management, Sanctuary Group
Return to top