Dynamic delivery of social value
ISG recognised that its collaborative and dynamic way of working could map well with the National Skills Academy for Construction approach to training development. But would it succeed?
ISG's vision to become the world's most dynamic construction services company is not just about pleasing its customers.
But applying the same dynamism of its business model to its training model to generate impressive community benefits may have been a lot more difficult without the framework of the National Skills Academy for Construction (NSAfC) to provide direction.
Pushing boundaries
"We first became involved with NSAfC, because we wanted to push the boundaries of social value delivery over and above our current educational engagement and work placements," Dr Vicky Hutchinson, ISG's Head of Social Value, explains.
"It took me and our project skills co-ordinator, Larene Linley, time, effort and perseverance to work out how best to implement the NSAfC approach within ISG and meet such stretching targets.
"Through the NSAfC, we have refined our approach to incentivise a far broader range of training, including NVQ courses, to upskill the existing workforce."
Spreading best practice
ISG's highly collaborative business model aligned well with NSAfC's partnership approach with local authorities, training providers and other contractors.
"This allowed us to share knowledge and best practice, widen our network to incorporate new local delivery partners, help others and be helped," she says.
"We've developed and strengthened relationships with our supply chain. We've had to ask for information that they aren't used to giving, and engage with people that we wouldn't normally engage with – and this has proved highly beneficial for all parties in nurturing a collaborative and information-sharing culture."
Social value in numbers
 "Over time, we've used the NSAfC approach to develop standard social value plans, and processes for delivering those plans.
"These processes are now being rolled out beyond our NSAfC sites and throughout our wider UK business.
 "We've supported the creation of 74 apprenticeships, 120 new jobs for unemployed people and new entrants, and 794 training outcomes.
"We also have industry recognition for our commitment to drive transformational change and achieved finalist status for training accolades with Construction News and Building magazines."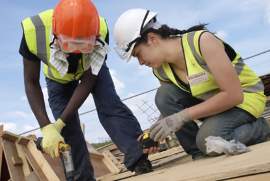 Snapshot
Who: Dr Vicky Hutchinson
Role: Head of Social Value
Company: ISG
Challenge: Pushing the boundaries of social delivery and transforming learning and development resources across the supply chain
Impact: 74 apprenticeships, 120 new jobs and 794 training outcomes
Hints and tips: "Working at scale and with others (such as sector-based work academies and work experience) is an efficient way of delivering targets, and you can share investment and benefits too."
"Strengthening our relationship with our supply chain has proved highly beneficial for all parties in nurturing a collaborative and information-sharing culture."
Dr Vicky Hutchinson, Head of Social Value, ISG
Return to top