The hub of the local economy
The question was how to encourage local small and medium-sized enterprises (SMEs) in south-west Scotland to access £500 million of construction investment – and create training and job opportunities in the process. The answer was the client based approach.
If the point of a hub is to bring people together, gather and share expertise, and forge partnerships to the benefit of the community, then Hub South West Scotland is a fine example. Its National Skills Academy for Construction (NSAfC) status is no small part of that.
"We had a great head start getting our NSAfC accreditation in place," says Margaret Milton, Hub South West's Community Benefits Co-ordinator.
"Our Skills Academy Development Manager, Charlotte McDonnell, previously worked for CITB and knew exactly how to help local businesses manage work placements, apprenticeship programmes, recruitment and training opportunities.
"So when it came to our first project using the client based approach (CBA), the £36.6 million Garnock Community Campus in North Ayrshire, we were able to make a significant difference to the local area.
From strength to strength
"On the back of Garnock, we supported apprenticeships, workshops and seminars,  vocational qualification completions, and created jobs, among many other things.
"We ran a 4-week employability programme, particularly aimed at long term unemployed looking to reskill in construction. Delivery partners included: The Armed Forces, JCP, DWP, Ayrshire College, the Tier1 contractor and SME's                                     
"Since then we have continued to maximise and optimise our contribution towards local regeneration and economic development with 28 other CBA projects."
Getting people together
"As you might expect from a hub, our main aim is to help link people up – with each other and to whatever support they need," Margaret says.
"We usually start projects with an on-site advisory day surgery, where we can check contractors have suitable training plans in place, and give advice about embedding any training opportunities, such as apprenticeships.
"The contractors also get to meet training providers and other support agencies, including CITB, so that the support is there, wherever they need it.
"We engage with local schools, colleges and job centres and get them connected with the contractors too.
Programmes and initiatives
"On top of that, we put on a range of programmes and initiatives to sustain that work. Some are tailored to the project, such as workshops and work placement opportunities, while we operate others all the time in parallel.
"Our Building for Growth programme, for example, brings local construction businesses together with our main contractors.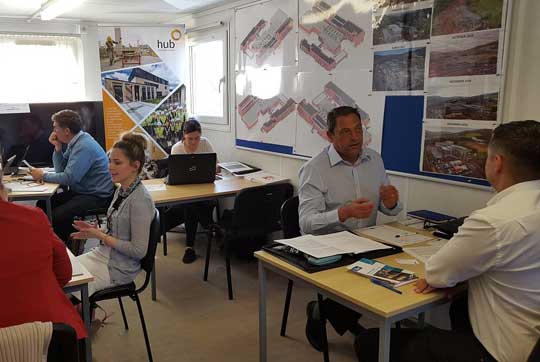 Snapshot
Who: Margaret Milton
Role: Community Benefits Co-ordinator
Organisation: Hub South West Scotland
Challenge: Generating growth in the local economy by bringing local businesses together with main contractors and providing training and skills support
Impact: A huge range of training and job opportunities created through 28 projects, and the extensive facilitation of business partnerships to the lasting benefit of the local economy
Hints and tips: "Fostering a sense of community and a desire to make a difference is really important."
"Through the NSAfC, we're facilitating collaboration along the supply chain to the benefit of the community here and the construction industry more generally."

Margaret Milton, Community Benefits Co-ordinator, Hub South West Scotland
"It's a great way for them to work on longer-term strategies in how to grow sustainably, support skills and increase capacity, share expertise and develop entrepreneurial relationships.
"Along with our Supplier Network and Supply Chain Institute, which provides training and business improvements to local companies, we are increasing the likelihood that they get hub contracts. That means more investment in the local community and more jobs for local people."
High rewards
The rewards of getting on board are significant. Hub South West aims to invest more than £500 million in new public buildings over the next 5 years, increasing to £1 billion over the next 10 years, creating a host of business and employment opportunities in south-west Scotland.
Special courses
"We have also developed training courses that complement the CBA. For instance, we do a Site Supervisor Safety Training Scheme (SSSTS) course to help local SMEs upskill their existing people," Margaret says.
"Women's Introduction into Construction Industry course, which we developed in partnership with our four main national contractors and New College Lanarkshire as a Level 5 qualification, addresses the gender gap. It's aimed directly at young women as a springboard into a successful construction career.
"All in all, we're doing what we can to help the local economy, support local businesses and create job and training opportunities for the people who live here.
"Through the NSAfC, we're facilitating collaboration along the supply chain to the benefit of the community here and the construction industry more generally."
Return to top