Going great guns for Alun Griffiths (Contractors) Ltd.
Coming from army bomb disposal into construction skills development, could Rob Cawley ensure that a Welsh infrastructure project went off with a bang?
Identifying bombs and booby traps for safe disposal in Afghanistan must demand nerves of steel. Then again, coming completely fresh to skills development in a £55 million construction project needs its own kind of bravery.
Fortunately, time in the Royal Engineers gave Rob Cawley insight into civil engineering projects, logistics and the kind of organisational skill set that is currently in huge demand in the construction industry.
The project
"It wasn't only my first construction industry project," says Rob, project skills co-ordinator with civil engineering firm, Griffiths. "It was also our first ever project with National Skills Academy for Construction (NSAfC) status.
"We regarded that as a big success in itself, but there was more to it again. It was also the first NSAfC in Mid-Wales and CITB's first ever for a project under £100 million."
The work was to construct a 6.5km bypass around Newtown in Powys, while upskilling existing staff, training and recruiting local people, and developing a local supply chain.
A further aim was to promote civil engineering and construction to underrepresented groups. No small order.
Getting to work
Undaunted, Rob quickly set about researching his role. "I used all my contacts to understand what had to be done. I spoke to other project skills co-ordinators, visited other building sites, formed relationships with local businesses, colleges, careers organisations and training providers.
"I closely studied the key performance indicators (KPIs), and put a plan in place to achieve them.
"We quickly developed effective partnerships so that we could get training and recruitment support we needed and offer it in innovative ways.
"Soon we had the apprenticeships, work experience, training courses, careers events and so on up and running."
But the remote location of the project was challenging. "It was really hard for some of our work placements to get to site because of its rural location and lack of transport links," Rob says.
Making a success
Even so, they exceeded 13 out of 14 of their KPI targets. "We had more than 50 work placements, supported 20 apprenticeships and created more than 30 new jobs," Rob says.
"Local businesses supplied about a third of our workforce, and we gave them on-site training to reduce travel expenses and time away.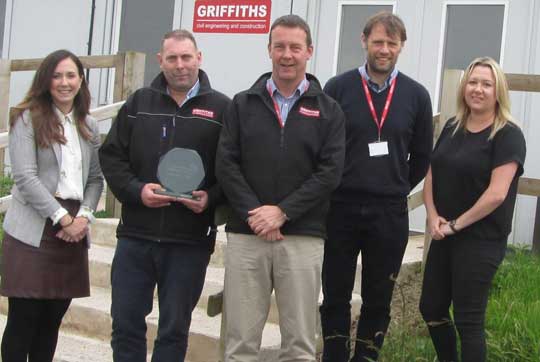 Snapshot
Who: Rob Cawley
Role: Project Skills Co-ordinator
Company: Alun Griffiths (Contractors) Ltd.
Project: A483/489 Newton Bypass
Challenge: Get local people and businesses into construction, while upskilling existing staff
Impact: Meaningful career opportunities and the development of a local supply chain boosted the local economy with £1.69 reinvested for every £1 project spend.
Hints and tips: "Engage early with the supply chain and get buy-in from managers. Be positive and form good working relationships."
"It's not just about numbers and awards. It's the lives behind them."
Rob Cawley, Project Skills Co-ordinator, Alun Griffiths (Contractors) Ltd
"We also reached out to more than 2,500 local students, sowing the seeds about what's possible in construction.
"We ended up winning a host of awards, including the Responsible Business Award for Inspiring Young Talent. The Civil Engineering Contractors Association gave the Most Promising Apprentice Award to one of our apprentices."
Life-changing results
"But it's not just about numbers and awards. It's the lives behind them," Rob says. "The opportunities we're making can be life-changing, providing a fresh start for people who have been long-term unemployed or for young adults who've had a tough time."
"We are reversing standard industry practice by offering all of our apprentices a full-time job when they finish their training. No wonder we have industry-leading completion rates."
A win for everyone
"The NSAfC is a win-win. We have better employee engagement, loyalty and retention, and a more skilled workforce, while young or disadvantaged people are getting new opportunities to follow rewarding careers.
"On top of that, there can only be positives for our relationships with our supply chain, local businesses and the industry as a whole.
"Having worked in the bomb squad I'm used to nasty surprises. On this job, the only surprise was how well everything went."
Return to top