Supervisory and management qualifications (NVQ level 3 to 7)
Are you a supervisor or manager in England, Wales or Scotland with a significant amount of experience in your current role?
This option involves a number of one-to-one assessments carried out at your place of work. You will normally be expected to achieve your qualification within 9 to 12 months from your first assessment visit.
Fees / visits
Fees / visits

| Qualification | Level | No of Visits | Price |
| --- | --- | --- | --- |
| | 3 | 2 | £1749 |
| | 3 | 2 | £1749 |
| | 4 | 3 | £1999 |
| | 6 | 3 | £2499 |
| | 6 | 3 | £2499 |
| | 7 | 4 | £3249 |
Where the qualifications fit in the industry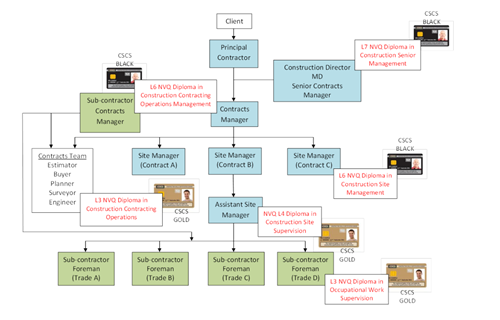 Download a PDF (180KB) of this diagram.
Assessment process
Initial assessment questionnaire
All candidates are required to complete an initial assessment questionnaire which will help to ascertain the most suitable qualification and route for their role and experience. Open the questionnaire, complete it and save it before sending to NCCAccountManager@citb.co.uk.
Please click on the relevant link below for your questionnaire.
Initial assessment
You will be contacted to discuss your questionnaire and confirm with the assessor the most suitable qualification. You will be fully briefed on all aspects of the assessment process during this discussion.
Assessment
To start the assessment process, payment is required up front in full. Once payment is received, you will be registered for the qualification and allocated an assessor who will contact you direct to start the assessment process.
On your first assessment visit, the allocated assessor will carry out the NVQ induction and complete an initial assessment plan during which you will agree optional units and individual specific assessment requirements.
Assessment activity will then be carried out to demonstrate the process.
You will not be required to compile a 'portfolio' of evidence.
You will be assessed in your place of work for four to six hours on each visit.
The assessor will work through the units asking you to demonstrate how you comply with the National Occupational Standards.
You will show the assessor the evidence where it naturally occurs in the workplace and will then discuss its use to demonstrate involvement, knowledge and understanding.
The assessor will catalogue the evidence they have seen and accepted along with making summary notes of the discussion that took place.
You will agree the next assessment visit with your assessor giving you a level of control over your qualification.
Alternative routes
For Occupational Works Supervision Level 3, Construction Site Supervision Level 4 or Construction Site Management Level 6: if you have insufficient experience to complete the qualification via on-site assessment or would prefer a structured classroom based course click the following links.
Return to top