Case-study
03 February 2022
Whatever you are building, CITB can help you access funding for training to help grow your business
CITB's Engagement Advisor for Dorset, Darren Lawrence was excited to be asked to support the training needs of this creative crew at Daniel Jeffries Carpentry!
CITB's Darren is a former tradesman himself and was keen to find out more about the skills needed to build the topsy turvy playhouse construction as he worked with proprietor Daniel, on his training needs plan.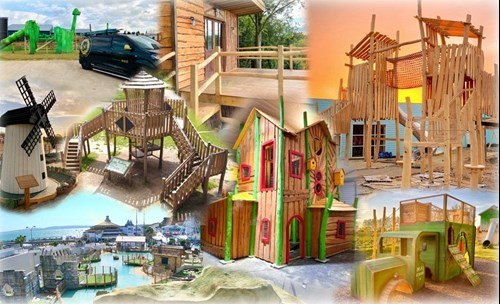 Darren said; "When there isn't a straight line in sight I can see this specialist construction work is very skilled indeed. Daniel's successful application to access the Skills and Training Fund will now support the upskilling of the company's existing employees and their next apprentice's intensive training, giving another person the opportunity to join this very different construction company."
Daniel was looking for training support as he is just about to take on his 3rd apprentice. He has already successfully trained two apprentice carpenters alongside him in his Bournemouth based business since he started out 9 years ago.
Now 30, Daniel explained his first venture into this unusual area of construction was being offered the opportunity to work on Bournemouth's Crazy Golf project by a local contractor.

He said: "That was luckily a huge success and the work opportunities have snowballed since."
Now Daniel employs 10 people along with 2 subcontractors and is exporting worldwide.
Daniel said: "I really believe in training young people up. I didn't do the best academically at school but went on to Brockenhurst college and got an apprenticeship and achieved NVQ levels 1, 2 and 3 in Wood Occupations,
"I started off as an apprentice with Brinlee Contract Carpenters and went onto winning construction student of the year. I then started out on my own doing the usual domestic work but even that work grew rapidly.
"Now quite a few years on we use an in-house designer for all the crazy shaped builds. Our work certainly shows a different aspect to the building trade. I've recently won a new contract for Houston, Texas. We are also building an old mountain lodge cabin here in the UK to ship over to the USA.
"We are lucky as we love what we do and never mind about working extra hours to get a job finished. "
The team has recently completed an elaborate indoor play area for the 3rd floor of a casino in Macau, the Las Vegas of Asia. The unit is approximately 6 metres high.
Daniel said: "Working with CITB has been a real help.
"Darren has even been speaking to our local college with me as the general nature of this work creates some issues with training and assessment. As everything we make is deliberately twisted or crooked. While our work has to meet strict safety requirements, it does not automatically fit into the run of the mill assessment at college. "
As an SME, CITB has helped Daniel access training funding. We can help you fund your next apprentice and build your business contact your regional CITB advisor today.
Return to top