Case-study
01 February 2023
Welcoming apprentices: Combining grants and free funding to face the future
As a family-run company with 45 years of successful trading under its belt, Hawkins Group is in a position to give something back. This year, thanks to financial support from the CITB, the company has been able to employ and develop six apprenticeships to help tackle the skills gap within the construction industry.
Based in Banbury, Oxfordshire, the business began in roofing and, while that remains the priority, it now also runs two other companies: Hawkins Steel and Hawkins Projects. Today, Hawkins Group employs around 70 staff across all three areas of expertise.
Erika Szommer, HR and Training Manager at Hawkins Group oversaw the submission of the company's funding applications. Working closely with their CITB advisor, she has drawn on support from CITB's Short Duration Grant, as well as the Apprenticeship Attendance Grant, and has topped this up with the free funding on offer via CITB's Skills and Training Fund.
"When I joined the company, we already had a CITB advisor, so the relationship with the business was already there. It was great to see there was always somebody I could reach out to and get advice from."
Each funding allocation covers a twelve-month period - and this isn't the first time that Erika has applied for funding for Hawkins Group.
She said, "We applied for the Skills and Training Fund for the first-time last year, and we have another successful application in place right now."
Funding awarded via the company's previous application was mainly spent on running health and safety training around plant use. This enabled the company to widen their remit, with more staff becoming skilled at using a wider range of machinery.
Erika said, "We become more agile as a team. More people now have more abilities so if we have more sites, for example, then we no longer have to wait for that one person who is able to operate a scissor lift, or whatever it may be."
This year, Hawkins Group has focused their funding on five new apprenticeships, ensuring that money is invested in development to allow the trainees to gain important site skills.
Together, the Short Course Grant and CITB's Skills and Training Fund have very much worked hand in hand for Hawkins Groups. Without this combination of funding and grants, Erika doubts that the company would have taken on so many apprentices this year.
She said, "From an HR perspective, I would have struggled to recruit apprentices. We all know the benefits and understand that there's a massive skills shortage in the industry, but then you've also got the commercial consideration - and it's a huge cost investing in training and people."
"If I wasn't able to put in for different grants and funding from CITB for our apprenticeships and the additional training that we've utilised through the Skills and Training Fund, we might have taken on fewer apprentices."
As it is, Erika and her team feel well supported by CITB and are pleased that the Skills and Training Fund is continuing to develop and become better tailored to businesses of varying sizes.
She said, "CITB are always trying to make improvements."
Ready to apply to CITB's Skills and Training Fund? Contact your CITB adviser today to find out how we can help you cover your staff development costs.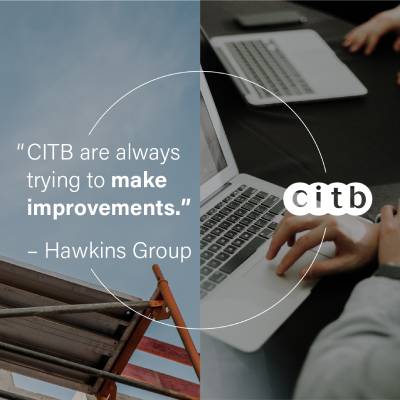 Snapshot
Company: Hawkins Group
Sector/s: Roofing, steel and construction projects
Challenge: To cover training costs and funding for new apprentices
Solution: Worked with their CITB advisor to apply to the Skills and Training Fund, to top up funds obtained from CITB grants
Impact: Hawkins Group have employed five apprentices to tackle the industry skills gap and upskilled their existing workforce
"We have another successful application in place right now."
Erika Szommer, HR and Training Manager at Hawkins Group
Return to top