We want you! Calling all construction trainees for SkillBuild 2020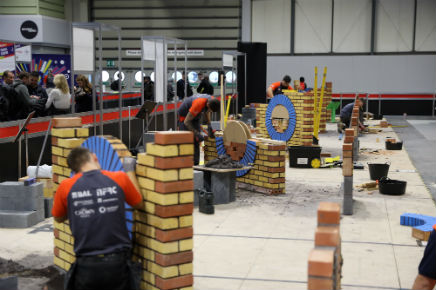 The largest and longest-running construction skills competition in the UK returns, as registration opens this week for SkillBuild 2020.
SkillBuild is delivered by CITB and forms a part of WorldSkills UK, also known as the 'skills Olympics'. As another year kicks off, WorldSkills UK are on the look-out for talented construction trainees to go head-to-head in a bid to be crowned the winner of their chosen trade.
Just like the Olympics, entrants will take part in a series of competitions, starting with regional heats during April to June 2020. If competitors qualify regionally, they will move onto training for the UK National Final, held at WorldSkills UK Live from 19 – 21 November at the NEC, Birmingham. WorldSkills UK Live is the UK's largest skills, apprenticeships and careers event, with last year's final attracting over 70,000 visitors.
Sarah Beale, CITB Chief Executive, said: "SkillBuild is a fantastic event for young people to participate in. To compete at such a high level demonstrates the skill and expertise coming through to industry. It also provides an amazing platform for employers to connect with talented trainees."
WorldSkills UK competitions take place across four industry areas; Construction & Infrastructure, Health Hospitality & Lifestyle, Digital, Business & Creative and Engineering & Technology. Putting apprentices' and students' practical skills, knowledge and employability attributes to the test in a competitive environment, the competitions are designed by industry experts and are free to enter.
Ben Blackledge, Deputy Chief Executive, WorldSkills UK, said: "WorldSkills UK Competitions are proven to enhance apprentices' and students' technical and employability skills, giving them the confidence to excel in their chosen career."
Don't miss your chance to compete! Registration for WorldSkills UK is open from 2 March – 2 April 2020. Visit Go Construct for more information on SkillBuild competitions.  
Return to top