Tradespeople needed to train the next construction generation
CITB is investing in the long-term future of its National Construction College (NCC) with a recruitment drive to bring experienced tradespeople into the classroom to pass on their skills.
If you are interested in teaching the next intake of your trade then CITB will train you to teach. Successful applicants will be supported to gain a Level 3 Award in Education and Training in-house at NCC.
The current roles at Bircham are for scaffolding instructors and plant operations instructors.
With over 10,000 students/apprentices set to attend the college this coming financial year the course leaders are keen to find the best candidates for the job.
NCC Curriculum Manager, Chris Bushell said: "We are looking for people keen to pass on their skills and give something back to the industry by making a real difference to the experience of our learners. In return we will invest time and money providing successful candidates with a lot of training so they will be earning while they are learning from the start.
"We will equip you with the teaching tools you need to upskill you to pass on your valuable skills."
John Aiken is a senior instructor at Bircham. He said: "Teaching in construction is very rewarding, watching your students develop skills that will enable them to be part of a dynamic industry is a great feeling.
"The CITB is a great investor in people, and has a proven record of developing subject specialists into qualified teachers. With great working conditions and competitive benefits there has never been a better time to apply for a teaching role at CITB.
These key instructor roles are being advertised at a time when with the industry facing some major recruitment challenges, including the need to recruit an additional 217,000 workers by 2025.
Follow this link to check the NCC latest vacancies not only at Bircham but at Erith and Glasgow too.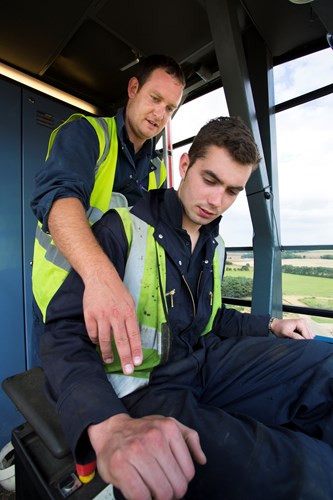 John Aiken, senior instructor at Bircham, pictured instructing apprentice Harry Skoyles on Liebherr 132 Tower Crane. Harry is now is a multi-discipline plant trainer and assessor. 
Return to top