The HoloLens: Transforming construction
Digital technology is transforming many aspects of how we live and work today. At a time when skills shortages are a big issue in the construction sector, it's important that we strive to break down potential barriers and welcome new, creative ways of working. By doing this, we can encourage a more diverse range of people to enter the sector, where they will have the chance to use cutting-edge digital tools and experiences.
Digital tech company, PAULEY, specialises in helping engineering firms create innovative solutions to industry challenges. Working with a range of businesses, they use immersive and interactive technology to cater to their specific needs, helping them to keep on top of the latest developments.
Having recently exhibited at Digital Construction Week, here Darren Ackers, PAULEY Operations Director, discusses how CITB's Flexible Fund has enabled them to put the 'Microsoft HoloLens' platform into action.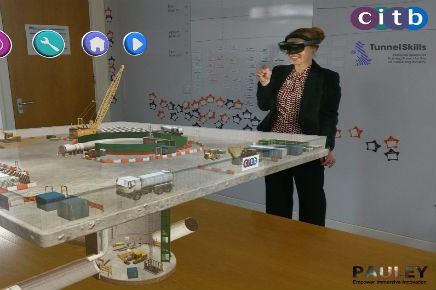 Challenges & Objectives
"Tunnelling training requires personnel to carry out highly skilled tasks in sometimes difficult environments. Training currently delivered via traditional face-to-face classroom methods makes it difficult to replicate the type of real-world environments people will be working in.
"Safety is critical to working underground and without being placed into a physical tunnel, which is both expensive and risky, it's difficult for trainees to experience the challenges of accessing and working in tunnel environments.
"With the help of CITB funding, we've worked to transform the training environment for tunnelling engineers through immersive learning. Our main focus is on the creation of safe simulated environments using augmented reality (AR).
The HoloLens Platform
"Digitisation has meant that learning about different types of work environments and roles in construction can now be a lot easier. We've worked alongside TunnelSkills, the National Specialist Training Forum for the UK Tunnelling Industry, to create an innovative solution to the challenges of training in a tunnelling environment.
"From the minute you put on the AR headset, you're immersed in a 2m x 2m hologram tunnelling construction site, including the surface, shaft and a section of tunnel.
"The benefits of 3D technology mean that you can take on the persona of a worker underground and follow their journey right from entering the tunnelling site area to arriving at the pit bottom.
"An audio commentary has been added to help guide the learner through the safe entry and exit processes.
Value
"The real value of technology is shown in the increased quality of training. We're dealing with environments which are hard to understand and visualise, especially when only using presentations, diagrams or photographs.
"We find that people learn much quicker by doing, and this immersive technology holds the attention for longer. It allows people to practice real-life scenarios, such as the safe evacuation procedure in the event of a fire in the tunnel.
"The HoloLens experience aims to build awareness of the risks and hazards for employees at all levels, helping to encourage culture change throughout the industry. It also supports the induction, training and outreach of workers and visitors alike, and offers the chance to repeat training where necessary to ensure maximum safety when working in the real world.
The Future
"The platform is aimed at the CITB accredited Tunnelling Safety Training Scheme (TSTS). As we've now finished the core development and are just in the final stages, the plan is for it to be piloted to TSTS in 2020.
"We're interested to know what people think and are really keen for feedback from newcomers on the course."
Snapshot
Company: PAULEY
Sector: Infrastructure
Challenge: Simulating a tunnelling environment for workers
Solution: PAULEY has collaborated with other companies on immersive learning, accessing a proportion of £249,000 awarded to TunnelSkills through CITB's Flexible Fund.
Return to top