Spotlight on construction during National Apprenticeship Week 2021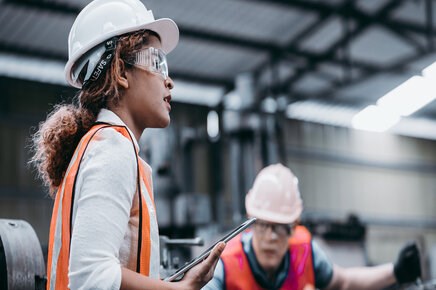 A new Construction Traineeship has been launched at the start of National Apprenticeship Week 2021.
With a quarter of a million new workers needed in construction by 2025, Construction Traineeships offer a route in for young people to gain new skills, or for the unemployed and unskilled to gain the experience they need to pursue a rewarding career in construction.
The Traineeships involve a work placement to develop practical skills, complemented by some academic study to ensure learners have the essential tools to enjoy a successful career.
Steve Radley, Director of Strategy and Policy at CITB said:
"Getting more college students into construction jobs is a big challenge which the new Construction Traineeship should make a lot easier by providing a springboard for learners to start work or an apprenticeship. 
"With job opportunities currently growing faster in construction than in many other industries, this is the right time for industry, Government, colleges and CITB to work together on practical solutions to bridge the gap between FE and work. Starting with bricklaying and moving on to the other occupations in a few months, we can make real progress this year."
The highly successful traineeship programme has already helped nearly 120,000 young people get on the path to a great career in other sectors since 2013. Two thirds of trainees get a job, take up an apprenticeship or go on to further study within six months of completing their programme.
The programmes last between six weeks and 12 months, and focus on developing vital employability skills, alongside additional English, maths and digital skills, combined with a work placement lasting a minimum of 70 hours. The new sector specific traineeships will give more young people to opportunity to gain the skills they need to complete an apprenticeship. The new pilots are expected to be launched in the summer.
Jenny Herdman, Home Builders' Federation (HBF) Director for Home Building Skills Partnership, said:
"As part of our Home Building Attract campaign, this February we will be profiling apprenticeships, graduate schemes and traineeships within the home building industry. Home building is not just about building homes, there are many different careers available that could be right up your street. Find out more about what opportunities are available by visiting HBF, or follow us through our twitter channel @Homebuildskills and hashtag #housebuildingcareers."
Lee Marley, Managing Director at Lee Markey Brickwork, said:  
"We're looking forward to working with CITB to develop the new Bricklaying Construction Traineeship. It's important for young people to experience a real working environment in construction to get them prepared for the workplace.
"Taking on a trainee will give our business the opportunity to assess and recognise young talent that we can retain at the end of the Traineeship. As I completed an apprenticeship myself and can see the benefit, training the next generation is something I'm very passionate about."
To support employers to take on more apprentices the UK Government is offering up to £2,000 for each new apprentice they hire. Almost 19,000 applications have been submitted by employers. The cash boost is available until March 2021, so businesses can create even more opportunities and give more people the life changing chance to start a great career.
Employers can also now apply for a £1000 cash boost to help them take on new trainees.
For more details on traineeships, click here.
Return to top