SkillBuild finalist Courtney full of praise for LGBTQ+ trades community
One of the biggest challenges facing the construction industry is promoting diversity.
Encouraging people of all backgrounds to join industry has been a priority for many years.

Statistics show that just 14% of the sector is made up of women.
Meanwhile, promoting diversity in the workforce has become increasingly relevant. UK law requires employers to practice fairness, inclusion and respect within their own business.
Finding your feet in construction can be challenging but, with the right support, opportunities - and friendship - can be found.
Take SkillBuild finalist Courtney Maddison.
Apprenticeship
Apprentice painter and decorator Courtney 21, is going for gold at the SkillBuild finals in November, an event described as the "construction Olympics".
"I started my apprenticeship at 19 to gain a qualification in painting and decorating and to have the opportunity to meet clients and grow my knowledge at work," says Courtney.
Courtney studies at Newcastle College one day a week and works for SMart Design as an apprentice decorator.
"I meet so many fantastically talented people each weekend and I love hearing their stories, tricks and tips along the way which helps me improve my skills."
Personal
It's not always been plain sailing for the talented apprentice.
"I'd often beat myself up often about not being as good as other decorators I'd see on Instagram, but my boss Samantha had helped me realise the only person I am competing against is myself and that's how you improve.
"As time went on, I began to realise that a decorator's job is to fix mistakes, and there's nothing that you can't fix as long as you have the knowledge," says Courtney.
LGBTQ+
Courtney ruminates on some of the personal challenges she has faced while completing an apprenticeship.
"As a female and a member of the LGBTQ+ community, I found it quite difficult getting an apprenticeship in the trade, which really made me debate and question my career goals."
Courtney has since found a sense of community within the trade.
"Speaking to other tradespeople I have met who are part of the community has helped a lot and I want to ensure any individual, future employer or client feels safe and secure at their place of work."
Equal
Courtney works closely with her employer, Samantha Murphy who owns SMart Design and has supported them throughout their apprenticeship.
"Throughout the past two years she's made me feel like her equal. I've never been made to feel like 'just a young apprentice' and she asks me for advice, which then allows me to be more independent and make my own decisions.
"Samantha is incredibly supportive. She's taken unbelievable amounts of her own time to help me improve."
Samantha has helped Courtney to reach the Screwfix Apprentice Final in 2021 and has supported her throughout the SkillBuild competitions.
"Samantha isn't just my employer she's my best mate! She has taught me so much and made me want to be the best I can be."
Courtney nominated Samantha for the Purdy Mentor of the year award in which she placed top 3.
"Courtney had been a fantastic apprentice – she always gives 100% to everything she does and she is beyond talented. It's been a pleasure to work alongside Courtney and I'll forward to seeing where she ends up in the future", says Samantha.
Goals
Taking part in the SkillBuild competition is important for Courtney's future career goals.
"I enjoy pushing myself and improving my skills which competing against the best of the best has allowed me to do.
"I loved every second of competing, especially the sense of accomplishment at the end standing back and seeing my work.
Courtney hopes competing will help her to fulfil her ambition of owning her own domestic decorating business in the future.
"There's no greater skill than knowing a trade. You will always be needed, but whether you're in demand depends on your mentality, respect and motivation," says Courtney.
"Apprenticeships open so many doors and allows you to earn money while you get the qualification you want, picking up life changing knowledge and experience at the same time. You're never too old and you get back what you put in, so go for it!".
If Courtney's story has sparked an interest in construction, please visit our Go Construct site for training opportunities, or if you'd like to learn more about diversity in construction.
After sailing through their regional qualifiers, Courtney will compete with over 85 finalists in the finals of SkillBuild 2022. Described as "the UK's construction's Olympics", SkillBuild will be delivered by CITB in conjunction with WorldSkills and will take place at Edinburgh College from November 14–17.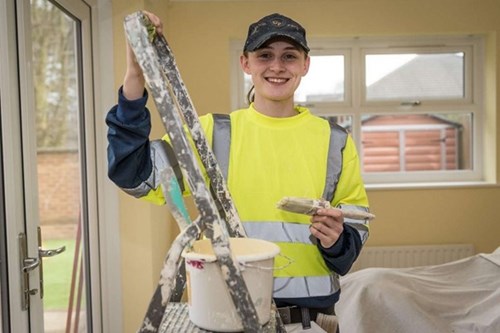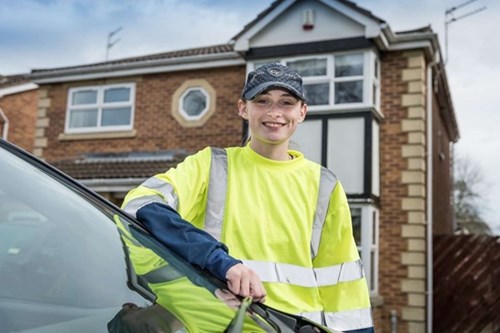 Return to top