Scottish Apprenticeship Week: Success breeds success!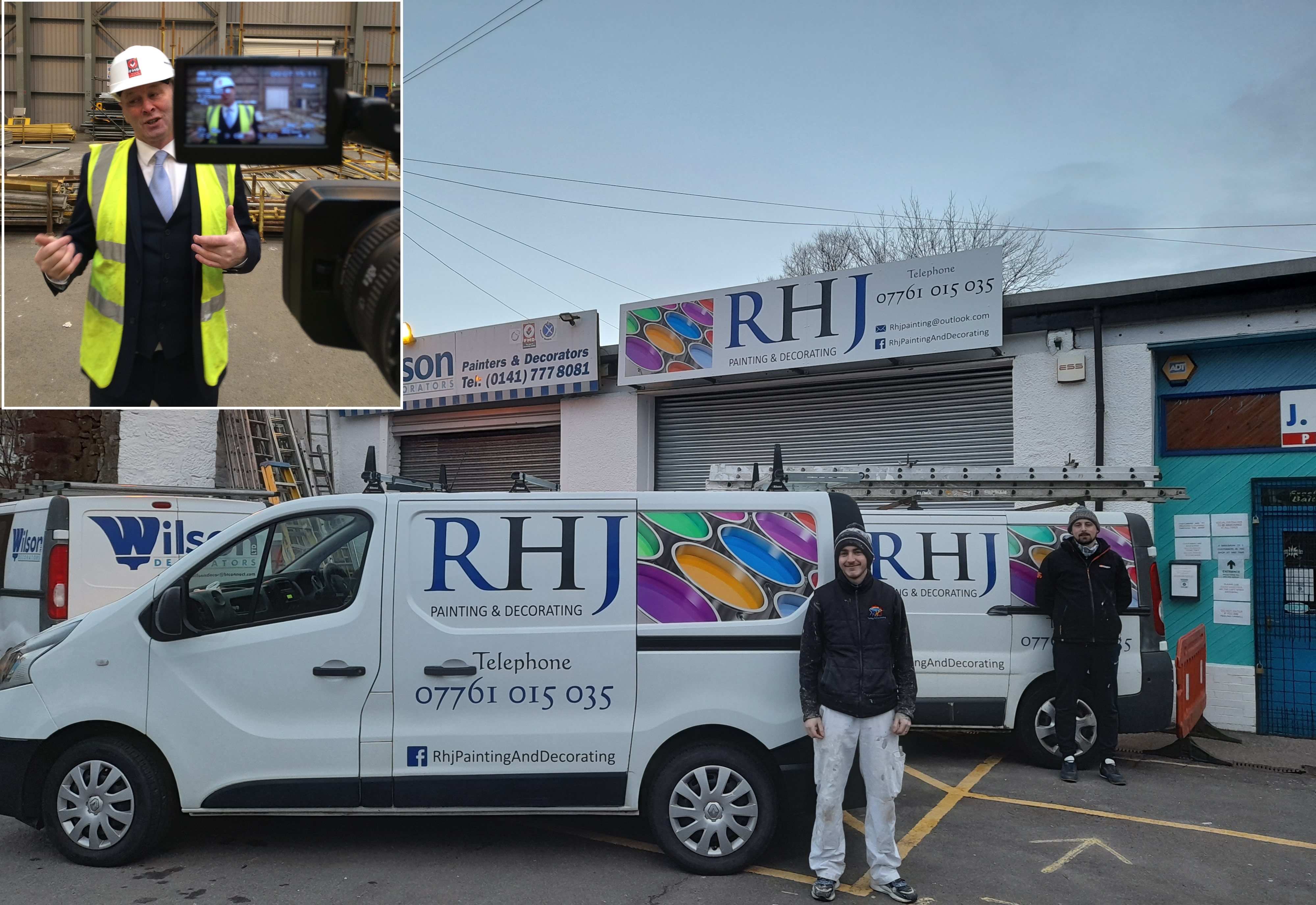 As Scotland prepares to celebrate Apprenticeship Week (1-5 March), a young painter/decorator from Drumchapel has completed an incredible triple. Anthony Morton has been nominated for Apprentice of the Year at a prestigious Glasgow college – just like his boss before him and his boss's boss before that.
Morton, 21, was nominated for the award at Glasgow Clyde College's Anniesland Campus in the West End last November and will collect his award in June. Morton is an apprentice with RHJ Painting and Decorating in Kirkintilloch, owned by Robert Hoey – apprentice of the year at Anniesland in 2009. Robert then worked for Robert Wilson, Managing Director of R Wilson Decorators, who received the award at the same college in 1974.
"It was great to be nominated," says Morton. "I couldn't have done it without the support of Mr Hoey. There are loads of opportunities to progress and you meet loads of nice people. Building is like a family. I left school at 15, never wanted to go to university. I'd recommend an apprenticeship to anyone."
Asked whether his success meant he would now move on to own his own company, Morton laughs.
"Maybe one day! Right now I'm happy where I am."
That's good news for Morton's boss, Robert Hoey, 35, who says credit should go to Glasgow Clyde College for the way the trades are taught.
"There are great teachers at Glasgow Clyde College," says Hoey. "There's also a sense of continuity –my teacher at college, his son is now a teacher there.
"We're expanding across Scotland with three vans on the road, so I just took on another apprentice. The government needs to do more to support apprenticeships as it's hard to find decent tradesmen and women and in years 1 and 2 they don't earn much. Anthony is working at a level way beyond his years, so we're paying him at a year 4 level in the hope we can keep him!"
Hoey believes apprentices can often learn more at smaller companies where they can benefit from working closely with people who have time to pass on the tricks of the trade. He benefitted from working with Robert Wilson, his former boss, who had also studied at Anniesland.
"Robert took care of me and helped me get where I am today," says Hoey. "He made sure I did everything right."
Robert Wilson, 64, was working at East Dunbartonshire Council as a painter and decorator when he attended Anniesland College, now Glasgow Clyde College, in the 1970s and was named apprentice of the year in 1974. He believes that as the country emerges from the pandemic, it's a great time to become a construction apprentice.
"If you leave school at 16 and become an apprentice you can be earning good money by 19-20," says Wilson. "Students are at college till they're 21 and then leave with huge debts. Don't forget too that 74% of self-made millionaires didn't go to university – though I'm not implying I'm in that category!"
Formerly on the Scotland Board of CITB, Wilson is also a former President of FMB Scotland.
FMB Scotland Director Gordon Nelson said:
"Robert is a past President of the Federation of Master Builders (FMB) in Scotland and continues to serve on our Scotland board. Through his business, Robert has taken great pride in employing and developing apprentices over the years. He is passionate about the future of the construction industry in Scotland and is a great advocate for the FMB and our members."
David Innes, Assistant Principal for the Faculty of Engineering, Computing and the Built Environment at Glasgow Clyde College, said:
"It is fantastic news to have three generations winning this prestigious award and it is a real testament to the hard work and dedication of both staff and students over the years. This is evidence that by working in partnership with companies we can produce really talented individuals, who in turn go on to employ the next generation of apprentice painters and decorators."
[Ends]
Photograph shows Robert Wilson (inset), with Anthony Morton (left) and Robert Hoey (right) in front of the company van.
Return to top