Sarah Beale's end of year message 2018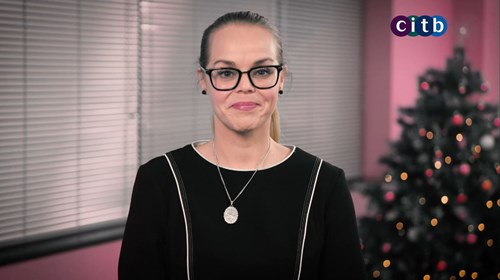 CITB's Vision 2020 programme gathered pace through 2018 and achieved all of the key milestones we had set out for this year. With the introduction of the Training Model, the new Grants Scheme, appointment of new Nation Councils and the beginning of our divestment programme, we are ensuring we target our expertise and British construction's resources on doing fewer things better.
This year, our business plan aligned with the work of the Council Leadership Council (CLC): we are standing shoulder to shoulder with the sector we support through a difficult year in political and economic terms. We are proud to say that in 2018, funding has started to work better with small and micro firms training more with the support of the Skills and Training fund.
Another successful funding commission this year has been Pathways into Construction. This launched so that larger firms, their supply chains and the third sector can reach and recruit more people in tough-to-find groups to ensure a high quality standard of workforce within the construction industry.
The Government's Sector Deal on Construction was a massive win for the sector and alongside CSN and the crucial insight delivered for LEPs, our investment in evidence and insight is beginning to show valuable returns.
Go Construct has reached over a million people this year which is a real success for the visibility of the potential a career in construction offers. However, we still need to do more to attract, recruit and retain talent within the industry. That's why we're launching a single sector-wide careers campaign, which we want you to be a part of.
Our employer-focused Grow & Thrive campaign has been a real success and is growing every day. It is important that employers play their part in the development of their workforce, and we're here to help and support them with this.
This year, we've developed more apprenticeship standards working in partnership with employers across the sector so that we get the training, and the quality, right first time, something we will continue to focus on in 2019 and beyond.
I also wanted to make a special note to the work British construction and CITB undertook following the collapse of Carillion at the start of the year. The rapid response and collaboration by our teams and the support of industry helped secure over 700 apprenticeships.
There is much more to come from us in 2019 delivering against our strategic priorities of Careers, Standards and Qualifications and Training, but right now I'd like to wish everyone a very merry Christmas and a happy New Year.
Sarah Beale
CEO
Return to top