Sammy's going for SkillBuild gold
Adult-learner Sammy Young is devoted to carpentry.
"I go to sleep thinking about rooms, I wake up thinking about joinery", says the inspiring apprentice joiner and carpenter.

Mum-of-three Sammy, 43, who won the silver medal in the WorldSkills UK national finals in 2021, is aiming to go one better this Autumn.

In November she will compete for gold against the very best of her carpentry peers at SkillBuild, an event described as the "construction Olympics".

In the meantime, at a time of year when many people are thinking of returning to learning, Sammy has encouraging words for adult learners.

"The advice I would give to anyone considering coming back into education or changing their career, is go for it!

"I now have the focus, discipline and concentration I didn't have when I was younger. It's glorious and I never want to stop learning."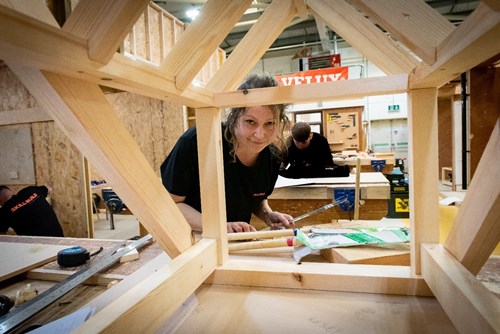 Happy
Sammy, who is originally from London but has lived in south Wales for 17 years, loved carpentry at school but, like many people, things didn't go to plan when school ended.

However, since returning to joinery Sammy, who juggles a lot of tasks in a busy lifestyle, says that through adult learning she has found her "happy place".

"When I was at school, I was amazing at carpentry and I was top of the class throughout, but then other things happened and I forgot it's what I loved doing," she recalls.

"I signed up on a carpentry course at short notice and within the first week I knew it was what I was meant to be doing. It was the best thing I've ever done and the only thing I've focussed on".

Sammy says that for her carpentry is a form of art. She takes a creative approach to her work.

"I don't think about anything else. Carpentry is just the practical side of art; I approach everything with my gut and it makes me happy to craft beautiful things.
"I'm a single mum to three children, so life is always hectic. On top of that I am self-employed and have many jobs to support our family. It's not always easy but my life is incredibly busy even without college, so when I come to college, it's my quiet, calm and happy place".
Empowered
Taking part in the SkillBuild competition, and winning silver at the national finals last year, enabled Sammy to secure a job in a joinery workshop, taking on commissions for bespoke and heritage projects.

"I particularly enjoy the more challenging tasks and designs especially drawing and geometry," says Sammy.

"I also like to test myself and enjoy the training sessions to hone specific skills".

Sammy, a full-time student at Neath College, has been studying two courses: level two bench joinery and level three site carpentry.

She says her tutors have been incredibly supportive, providing materials and imbuing their experience.

"I have felt entirely supported, which has really empowered me throughout the competition and in life".

Sammy is going on to compete with over 85 finalists at the finals of SkillBuild 2022 after sailing through the regional qualifiers. Described as "the UK's construction's Olympics", SkillBuild will be delivered by CITB in conjunction with WorldSkills and will take place at Edinburgh College from November 14–17.
Positive
Sammy has a positive message for women who are thinking of joining the construction sector or pursuing their dreams in general.

"I would encourage women to go into construction just as I would encourage women to go into anything that they want to do. The fact that you're a woman shouldn't limit you in any way, shape or form.

"There are no limitations to being a woman. It's welcoming and there's space for women in the construction industry".

You can watch Sammy at work here
If Sammy's story has sparked an interest in construction, please visit our Go Construct site for training opportunities.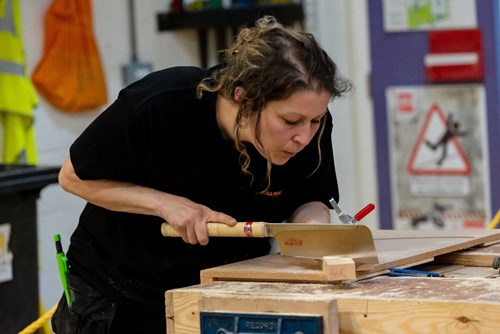 Return to top