Rugby and carpentry a winning mix for skilful Oliver
The largest and longest-running construction skills competition in the UK returned earlier this year. SkillBuild is delivered by CITB in conjunction with WorldSkills UK, and as preparations for the National Finals get underway, we hear from finalist, Oliver Tudor.
College student Oliver Tudor is a great example of how doing what you love can reap rewards.
Oliver, 17, is a woodworking skills finalist in SkillBuild, a prestigious competition described as "construction's Olympics".
And when he's not making strides with his carpentry ambitions, Oliver is excelling at another of his passions - rugby.
As Oliver, who is currently studying on a carpentry gateway course at South Staffordshire College explains, carpentry and rugby are a great outlet for him.
Variety

"My course involves learning a variety of different trades and completing tasks," says Oliver.
"I have autism, so I can find writing and reading difficult, but I have support at the college to help me with written work and exams.
"I am very practical, with a good work ethic and love to be with my friends at college and learning new skills."
Oliver says he loves playing rugby in his spare time.
"I recently won the Players' Player award with Tamworth Rugby Club, who I've played with since I was five. This has really helped me to provide an outlet for my emotions when I struggle."
Excited
Oliver's college tutor suggested he enter the SkillBuild competition in the Foundation: Woodworking Skills category.
"When I found out I was selected as a finalist for SkillBuild after competing in the regional qualifying heats, I was totally shocked and elated," he recalls.
Oliver says he is looking forward to competing in the WorldSkills UK finals competition this year and excited to see what the future will bring.
"I've never been a particularly competitive person; I just want to do my best and make my family proud."
He has lovely advice to anyone thinking of entering construction or the SkillBuild competition.
"I would say to anyone thinking about entering the competition to go for it! You have nothing to lose, everything to gain!
"Completing the course has allowed me to go on to Level 1 carpentry course to achieve my goals of becoming a carpenter.
"I would also say to anyone thinking about considering carpentry to go for it! It is a brilliant career with amazing prospects."
Clive Coley, South Staffordshire College, Curriculum Manager for Construction and Plumbing, said:
"Oliver joined us from Two Rivers High School and enrolled on a Gateway to Construction course at TORC campus covering Carpentry, Brickwork, Painting and Decorating and Tiling.
"Immediately he thrived on the course and showed a real aptitude for Carpentry and Joinery. His attendance in all aspects of the course was exemplary and as well as the nominated tasks Oliver was given, he also completed numerous additional activities and was always keen to help others with their chosen tasks.
"He undertook additional hours to train for the SkillBuild regional qualifiers and was successful in reaching the final. He has enrolled on a Carpentry course this year to enhance his skills and has already gained work experience with a local builder."
Jonathan Chivers, CITB Director of Product Management, said:
"The SkillBuild finals are a really exciting stage in the competition, as we get to see the best talent go head-to-head and show us their skills. From furniture and cabinet making to carpentry and painting and decorating, right through to roof slating and tiling, these trainees are showcasing the very best of construction technical education, which can act to inspire many other young people.
"The competition is without a doubt a challenging experience, but CITB is hugely proud of everyone that participates and wishes them all the very best of luck at the final in Edinburgh."
Interested in becoming a carpenter? Trained with experience carpenters can earn in the region of £20,000 - £30,000. Our Go Construct website has all the info you need.
After sailing through their regional qualifiers, Oliver will compete with over 85 other finalists, each going head-to-head in a bid to be crowned the winner of their chosen trade. The National Final of SkillBuild 2022 will take place at Edinburgh College from November 14–17.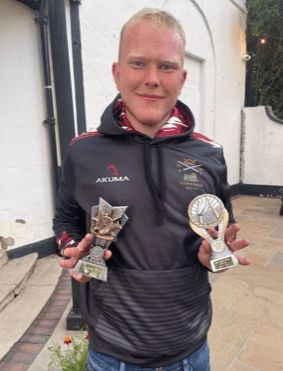 Return to top