Open Doors: An important opportunity for industry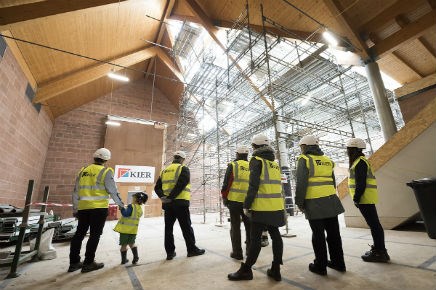 All across Great Britain, construction companies will throw open the gates to their sites, factories, offices, and training centres for a unique chance to go behind-the-scenes. The week-long campaign, Open Doors, takes place 16 – 21 March this year and many sites are already preparing to welcome a whole host of visitors.
This year, in light of the Coronavirus, Open Doors is changing from onsite visits to digital ones.  Find out more on Open Doors website.
Kier, a leading provider of construction and infrastructure services, has a long-running history of participating in the initiative and understands the benefits it brings. Kier's Assistant Design Manager, Zara Edmondson, has been part of its Open Doors working group for the last four years, as it aims to attract more people to consider a career within the built environment. Here, Zara reveals the value of taking part and why it's important for more businesses to get on board.
"Open Doors Week is a fantastic initiative and I am proud to have been involved with it for the last four years. Over this time, I have been able to work on various elements, from regional events through to national involvement.
"It really is a team effort; there are so many people from Kier involved in making the week a success. There is a team of us who look after the whole of Open Doors for the company, from starting off at the ground level through to finishing on that final day.
"I have been able to work with people from across the business, learn about their skill sets and explore their routes to entry. It's clear there is no fixed way into construction and that people can join from all different backgrounds and at different stages in their careers."
Opportunities
"We open sites across the country and this year we have some brilliant sites for people to visit; from Heatherwood Hospital in Ascot, to the Royal College of Arts in London, and Ponteland in Northumberland. Last year, we had over 1,000 visitors attend one site alone.
"I work with our site teams to monitor the stages of the projects and then build a profile on them. This might involve PowerPoint presentations, talking through the planning process or visitors can also look through drawings on-site.
"We're also trying to introduce other aspects, such as 3D models and headsets for 3D imaging, to make the experience interactive and engaging.
"It's important to note that we open not just our front offices but our sites, to explain the whole process of a project. This includes where we've come from to where we are now, and what we'll be doing going forward."
Value
"Visitors have the chance to see first-hand what we are doing in their local community, and ask us the questions they've always wondered. I believe this is so important because it gives us the chance to change people's perceptions. We often have feedback from visitors, telling us how fascinating they found the information after attending.
"Open Doors provides a platform to showcase all that goes into a building, including the variety of people involved in making a scheme happen. Ultimately, it's the chance to remove the stereotypical image too often associated with builders.
"Construction is not just about getting dirty on a building site; there is so much more to it. Whether you are interested in law, technology, plumbing or HR, construction has a place for you. By visiting our projects and talking with us, people can discover the variety of jobs available.
"If we can give just a snapshot of what the industry is really all about during this week, then we can inspire this generation of workers, and the next, to consider a role within it. I am hugely proud to work within the built environment, like all at Kier, I want to be able to talk about it and attract others to come and join it."
Site registration closes 28 February. Don't miss out on your chance to register and join us in opening your doors this year. Open Doors is a Build UK initiative, in partnership with CITB.
Return to top