Onsite Experience Hub a beacon of hope for Emmy
Sometimes work can offer hope when other parts of life are tough.
Take Demolition Operative, Emmy Jones.

Emmy has made great progress in her life since joining the Onsite Experience Hub in Leicester.

The hub, run by the Council and co-funded by CITB, provides training and job opportunities for people seeking a career in construction.

Since joining the Hub Emmy has passed her onsite qualifications and is now working for AR Demolition, an award-winning family business in Nuneaton.

However, not too long ago, Emmy was struggling.

Prior to beginning her construction career, Emmy found herself in a domestic nightmare.
Training
"Before I signed up to the programme, I was in a relationship which wasn't going very well," recalls Emmy.

"I had to hide each demolition letter, from CITB, that was coming through the door, I couldn't let him, my partner, find out."

Emmy says her construction training, and the prospect of a job at the end of it, was a big motivation for her.

"It helped me get out of the domestic abuse relationship, because I thought 'I can do it,' she says.

"I knew construction was what I wanted to do but being a young woman, it was hard to get into.

"But now you can. You can do it. And I've shown that."
Prospects
Emmy says one of the best aspects of the Hub was the fact that staff don't judge the learners. They support and welcome all types of people from all kinds of backgrounds.

"The Hub is here to help people find a footing in the construction industry," agrees Richard Thorpe, Leicester City Council Onsite Construction Hub Manager.

"We encourage diversity and support people who are not well-represented in the construction industry.

"The Hub gives learners the site-ready experience and qualifications employers are crying out for. As Emmy has shown, it can help someone in a tough predicament find focus and opportunity."
Variety
The Hub involved a variety of training which Emmy enjoyed. This included working at height, hazards in construction and health and safety.

It helped her find focus and the construction role that suited her.

"Training was five days, morning 'til night," recalls Emmy. "I was excited but nervous at the same time because I didn't know what to expect.

"I knew I wanted to go into construction, but I never knew what I wanted to do.

"The trainers at the Hub helped me find something that I liked.

"We went through all these different sorts of job prospects. When the demolition opportunity came out, I went, 'That's the one I want to do, that's the one I want!' it was exciting."

Emmy says that when she began working on site she was "thrown in at the deep end".

"But I knew from that day it was definitely for me."
Practical
As well as precious practical experience the Hub helped Emmy get important industry qualifications.

"The pre-employment programme was really good," she says, "because that gets you ready for construction, to go into it.

"The tutors explain what it's about, what you need and then you revise the CSCS questions. And I passed my CSCS. I was so excited.

"Then I started learning the hazards. Working at height, the normal things like how to pick up a box.

"You think, 'what has this got to do with construction?' but it's important.

"I'm so glad I learned that because looking back at it now, it's been helpful to me at work."
Opportunity
"Emmy's story is inspiring," says CITB Commissioner Rohan Cheriyan.

"It's one of several positive stories Onsite Experience Hubs across the country have to tell.

"The Hubs have helped people who have been bereaved, suddenly found themselves unemployed or, like Emmy, been in a bad relationship and trained to get themselves up and running and into work.

"I hope Emmy's story offers encouragement to young people and potential career-changers of all ages and backgrounds. We're here to support you."
Our case study playlist features Emmy and other examples of Onsite Experience Hub work across the UK.
Interested in being part of the Leicester Hub? It offers a free entry programme into construction. You will gain industry skills and work experience with a local employer to make you site-ready. Please contact Richard Thorpe: Richard.Thorpe@leicester.gov.uk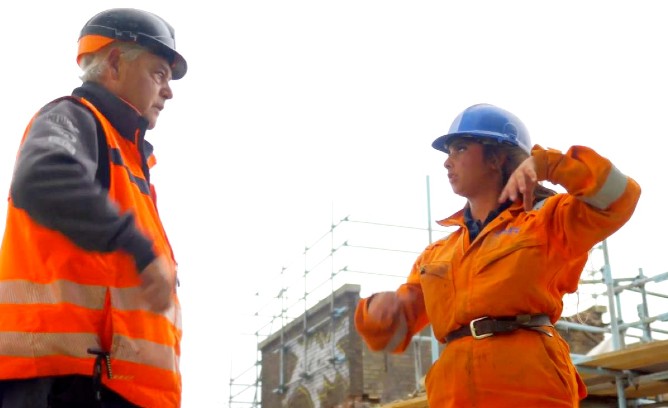 Return to top