New group sets high standards for Welsh apprentices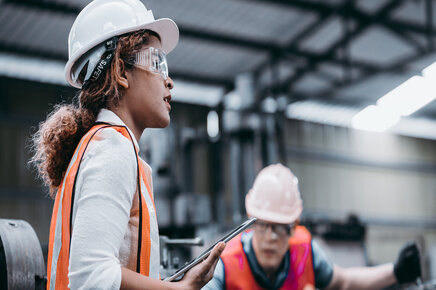 A new partnership is striving to ensure high standards for young people looking to join the construction industry in Wales.
The Welsh Government Construction Apprenticeship Framework sees CITB lead a coalition, including representation from construction employers of all sizes, to ensure high standards are maintained.
The new group strives to ensure that apprentices can progress from their training into jobs in the industry, while maintaining high standards for both training and the workforce.
Gareth Williams, CITB's Standards and Qualifications Policy Manager for Wales, said: "Construction has a key role to play with a plethora of ambitious projects scheduled, and we're keen to play our part in ensuring young people are trained and enthusiastic about entering the industry.
"Covid has had a big impact on students, and employers often experience issues with students not having sufficient workplace skills. Our collaborative working will ensure that Welsh apprentices have the skills they need to succeed in this sector, and to pursue a rewarding career in construction."
While construction was hit by the Covid-19 pandemic along with all businesses, the hit the industry took was about a quarter of other sectors. With £5.2 billion of construction work completed in Wales last year, the industry is set to grow by 4.5% per year to return to pre-Covid levels by 2024.
The scope of companies involved ranges from Bouygues Construction UK, which has 4,800 staff across the country, to Anwyl Homes Cheshire, which employs 236 workers.
Leigh Hughes, Corporate Social Responsibility Director for Bouygues Construction UK, said: "Collaboration between Government, business and stakeholders is essential to develop and maintain a resilient construction industry. We look forward to this new partnership to develop and deliver a structured 'All Age' apprenticeship pathway from foundation through degree apprenticeships to attract and inspire a new generation of craft and technical construction workforce."
Phil Dolan, managing director for Anwyl Homes Cheshire and North Wales, said: "Apprenticeships are vital to the future success of our industry as they provide young people with the skills and qualifications they need to progress. The combination of on-the-job training and classroom learning has a proven track record for success.
"The construction sector is still facing a skills shortage and it is only by working together to provide high quality apprenticeships and training programmes that we will overcome this and ensure the industry continues to grow and prosper."
The group was founded last month, and met for the first time this week.
The main areas the group will be addressing are the Foundation Qualification within apprenticeships, entry requirements for construction apprenticeships, the essential skills within apprenticeships, and to implement a new apprenticeship framework.
Return to top