National Apprenticeship Week 2020: Hear from employers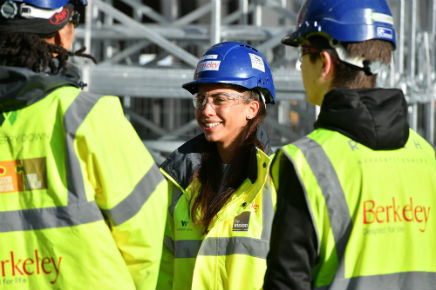 This year we hear from the employers at the forefront of apprenticeship delivery, on what it's like to hire an apprentice, including micro, 'small and medium-sized enterprises' (SMEs) and larger employers. 
Micro Employer – Airborne Bathroom Services 
Just a year after completing his apprenticeship with CITB, Mark Turner was already on his way to carving out a career in construction, having set up his own Liverpool based business, Airborne Bathroom Services.  
 
Mark now takes every opportunity to recommend apprenticeships as a route into construction and has employed three apprentices since starting up the business.  
 
"I knew from my own experience that it was a good thing to do," says Mark. "I knew I couldn't teach the theory side, but as apprentices also go to college, they're able to get that extra knowledge that you can't get solely from being on the job." 
 
Having experienced the same journey, Mark not only relates to what the apprentices are going through but encourages their input within the workplace.  
 
"They've got a fresh brain! Some of the things they learn in college, such as new regulations, mean they're able to jog my memory." Mark notes the difference in the day-to-day work environment, "They bring a bit of morale to the team as well."  
 
Mark is now working towards becoming a CITB Construction Ambassador to continue his efforts in promoting apprenticeships to young people.  
 
"It's really beneficial to the business having an extra pair of hands around and it's great to see their development," says Mark. "It's such a rewarding feeling when the apprentice gets it right and can finally fit the bathroom!"
SME – Lloyd and Gravell Ltd 
Llanelli based Lloyd and Gravell is no stranger to the apprenticeship process; they've been taking on apprentices since the business opened in 1991. Over the last 10 years, their focus on expanding in apprenticeship delivery has, in turn, helped the whole business grow. 
Kevin Gravell, partner in Lloyd and Gravell Ltd, says, "We have always thought apprentices are an important part of our company." He adds, "We have a duty to the communities that we work in to equip the next generation with the skills they need to sustain the construction industry locally."
Taking on apprentices can bring a refreshing collaboration to ways of working within the business.
Kevin says, "We can all learn from different generations; they bring new ideas which keep us on our toes, while we can teach them what we know as experienced tradespeople."
Lloyd and Gravell also work in partnership with Carmarthenshire County Council and other businesses to deliver Next Steps, a fast-track scheme. They work on a six-week programme with shortlisted applicants to help them gain on-site experience.
Looking ahead, Kevin is keen for other SMEs to embrace the college aspect of an apprenticeship, which might initially seem daunting.
Kevin explains, "When they are starting out and spending a lot of time at college, it may be hard to see the benefits." He adds, "But by taking on an apprentice, your company is making a long-term investment in a person, who is the future of our industry."
"You can look back knowing you played a part in the development of the lifeblood of our industry. They will develop the business alongside you so be patient – it's worth it!"
Large Employer – Berkeley Group 
Being aware of the current skills shortages within the industry meant that Berkeley Group felt a responsibility to take action in their own business. This led to the creation of the REACH apprentice scheme, where they directly employ apprentices across seven London boroughs.  
 
Stav Aristokle-Hill, Apprenticeship Programme Manager for Berkeley Homes says, "Our aim is to get apprentices through the qualification and then work with the supply chain to secure employment afterwards." 
 
Having established a strong support network of Workplace Coordinators to nurture and develop apprentices, Berkeley has now rid its supply chain of some of the initial pressure involved and can see the benefits shaping up for the business.  
 
"It's had a kind of ripple effect through the business," says Stav, "I've found a lot more people are thinking about self-learning again and looking at apprenticeships in a new light."  
 
It's this change in perception that Berkeley is keen to highlight to other large employers. Stav explains how they want to demonstrate that hiring an apprentice doesn't have to be any different from the normal recruitment process.  
 
"People procrastinate over things and say they're not equipped to take on a young person, but an apprentice doesn't have to be a school leaver," says Stav, "We've got a 35-year-old doing a construction management course." 
 
With over 500 apprentices employed through Berkeley last year, Stav views apprenticeships as an opportunity to make an impact. She explains how watching apprentices flourish can bring a sense of pride and achievement but, through training them, can also lead the way in making positive change.  
 
"As a large employer, we felt we could offer something different by setting the standard," says Stav, "We're passionate about supporting our industry and want to fill those skills gaps".
Find out more about how you can hire an apprentice.   
Return to top