"My experience has been inspirational" - Community Liaison officer Sabrina Robertson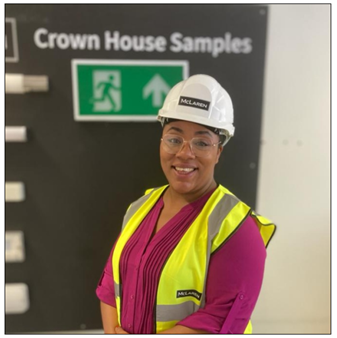 With a Degree in Education and Community Development and a background in admin, Sabrina Robertson, 36, might seem an unlikely recruit to the construction industry. Sabrina popped into Barking and Dagenham Construction Skills Fund (CSF) Hub, one of 14 nationwide funded by the Department for Education and administered by CITB.
"I'd been working in admin for approximately four months before I joined," says Sabrina. "Before that I was working as a Support Worker for two years and had also worked in customer service and education as well as having experience working within the community at a local centre."
Sabrina visited the Hub's "JobShop" to register and enquire about opportunities in the construction sector, as she was unsure what roles were available or what she would be interested in. The Hub reviewed her CV, experience and qualifications and suggested a role in Community Liaison and Community Investment roles would be best suited to her skillset.
"The JobShop set about securing me a placement with a Community Liaison officer already working in the borough. Wates were keen to support, so I shadowed their CLO for a few months, receiving careers guidance and interview prep."
With her experience, strong reference and CSCS card as well as her degree, Sabrina secured the role of Community Liaison Officer for McLaren, a large and well-established contractor. Sabrina will now keep in contact with the Hub to mutually promote JobShop/McLaren jobs, training programmes and initiatives to residents.
Thanks to Sabrina's initiative the service was able to secure two work placements for unexperienced young candidates at Crown House in Barking, where one of them moved into paid employment afterwards.
Sabrina is very happy in her new role and eagerly learning new skills as she goes.
"I introduced myself to the service in November 2019 and was initially deterred as I didn't understand the variety of positions available within the construction industry," she says. "I instantly felt welcome and was given the opportunity to discuss my previous experience with an advisor, who encouraged me to pursue a career as a Community Liaison Officer."
Sabrina's advisor then set out a plan to introduce her to Community Investment Managers that could mentor her and provide the necessary work experience. She was then given a schedule to complete her CSCS which was postponed due to Covid-19:
"After 6 months of following a plan and proactively engaging with my mentor I have gained sustainable employment with McLaren and can confidently say that my overall experience has been inspirational and has made a huge impact to my family."
Funded by the DfE and administered by CITB, the Construction Skills Fund was established in 2018 to train a site-ready workforce ready to meet the needs of the construction industry. 25 on-site training hubs were established across England, two funded by CITB. 14 hubs received funding to continue operating throughout the pandemic to September 2021 when the project wound down.
Since the start of CSF, nearly 20,000 people have been given the opportunity to work in construction and over 7,000 people have successfully gained employment within the sector.
Return to top