Learnings from lockdown: Safe Hands Consultants
Andrew Gardiner manages health and safety matters for a living but when COVID-19 hit, it became a responsibility for everyone. As experts in the field, Safe Hands Health and Safety Consultants Ltd were approached by new clients, so they used this period as a propeller for growth, venturing into new sectors.
Here he tells us three lessons to be learnt from lockdown: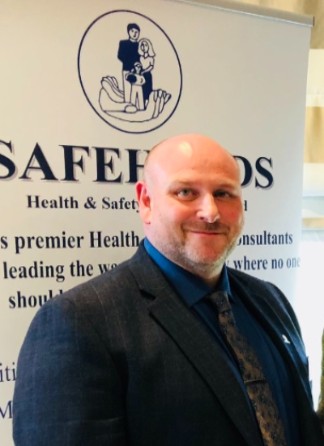 A contingency plan is essential
For us at Safe Hands the initial challenge was the sudden closure of businesses on 23 March. We had a robust contingency plan in place so it was quite easy for us to make the transition to remote working. We made the change to a cloud-based system a few years back. Investing in the contingency plan and the new system was vital for us to cope in the lockdown. 
It's about looking at the worst case scenario, not just for Covid, but if there's a fire risk or a power cut, what can you do to best prepare? 
Once we'd started working from home, the next challenge was to keep everyone's spirits up during such a tough time. We created a WhatsApp group and had regular Zoom calls to stay in touch and just have a chat.
Employers must improve mental health support and awareness
I trained as a Mental Health First Aider in December 2019 through The Lighthouse Charity Club and CITB. The training teaches people how to spot the signs and symptoms of mental ill health and provide help on a first aid basis. 
It came in great use as I was able to use my training to support staff with their mental health and well-being. It also made me more aware of my own well-being, making sure I'm taking care of myself, knowing my own limits and liabilities.
Now that Mental Health First Aid England and CITB have given us the green light to go ahead with face-to-face training, we will implement social distancing and reduced numbers.  Customers are keen to get expired certificates refreshed and get back into training.
Clear communication is a two-way process
Communication is the key driver in controlling the impact of the virus and keeping everyone up to date, be it customers, staff or visitors. It's easy for companies to stick a sign on the front door but if you engage with people and listen to their concerns, it goes a long way.
The weekly updates from CITB helped us keep up-to-date with the latest news from a trusted source. It's important to have this when there's so much information being shared. The updates keep things short, sharp and concise.
We found the checklists in the updates particularly useful and shared them with our customers. 
I think the lockdown period has encouraged us all to speak more and ask, 'how are you?' Integrity and empathy are two fundamental pillars that all businesses need to build strength and connect with their staff. Being open and honest with staff is important to build a good working relationship.
Visit our Urgent Messages page to find out about the range of support measures currently available. 
Return to top