Journey to becoming a Plant Operator
Chancellor Rishi Sunak announced a £600bn investment in infrastructure in his first Budget back in March. However, the outbreak of COVID-19 presents huge new challenges for industry, which is now facing so many uncertainties. This makes it even more essential to recruit enough new workers with the right skills needed to keep Britain building during the post-COVID recovery. In early March, CITB's Bernadette Galbraith visited the National Construction College in Norfolk, and spoke to apprentices undergoing a 12 week course in plant operation.
For 26-year-old David Campbell, construction had always been an area of interest, having previously undertaken various labouring jobs. On moving to Essex with his partner in August 2019, he decided to develop his interest in the industry by taking on an apprenticeship, allowing him to continue to earn while learning.
"My partner started a course at the University of Essex, hence the move from Blackpool" says David, "I had to start job hunting for construction roles in the area and that's when I got lucky with this job through Knight Group."
Knight Group, based in Essex, delivers construction projects across all sectors for varying clients. David is one of five apprentices the firm has recently taken on and enrolled into a closed Plant Operator course, through the National Construction College (NCC). The closed course allows NCC instructors to cater to the specific needs and requirements of Knight Group as an employer.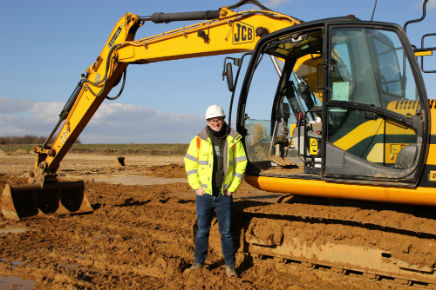 "When I saw this job come up I thought, 'I'll go for that'," says David, "I love driving anyway so I knew driving on a site would definitely be up my street."
Across the 12 weeks of study at Bircham, apprentices go through an initial induction, as well how to operate a 180 degree excavator and the firm favourite, 360 degree excavator – the largest machine on site. If successful in all elements of the course, apprentices obtain the Blue Competent Operator Card.
Speaking just days from completing the course, David explains the examination process: "We've done five tickets in total. You have to sit a health and safety test first and then, just like with your driving licence, you have to take your theory before doing the practical." The Blue Card consists of tickets, forming the different aspects of the course that must be achieved within the time frame.
David, along with his classmates, has been staying in accommodation at the NCC for most of the 12 week period. As the course now draws to a close, there's a sense of excitement to be returning home and progressing into the next stage of their careers.
With his practical test due the next day, David tells me he's squeezing in some last minute revision.
"The simulators help you get to grips with the machine," says David. "Things like your hand movement and operating the controls, before you go on the real diggers outside."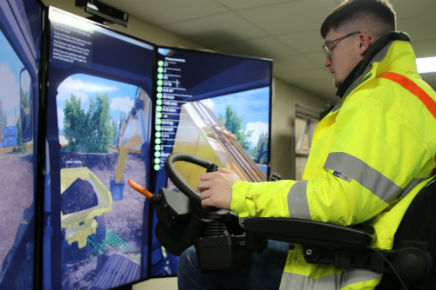 Situated on an old RAF base, the NCC at Bircham is best known for its unrivalled practical plant training area, spanning 150 acres. As well as the 16 simulators inside, the outside space offers learners a unique chance to grasp the skills required in the working world.
Amidst the narrow, winding roads and acres of rolling countryside, the NCC provides a touch of home comfort for learners, and ensures there's always a place for them to relax after a long day. David describes the highlights, which include the gym, a 25-metre swimming pool, tennis and squash courts and Club 75 – a games and social lounge.
"We all go swimming every Tuesday and Wednesday evening, we have a right laugh!" David adds. "Club 75 is also really good. There's a PlayStation and loads of different games to choose from. It just keeps us busy, rather than getting cabin fever at night."
Thinking about the next steps for his career, David hopes to become further qualified with more tickets and continue to work for Knight Group, which has supported him throughout his training at the NCC.
"I can't really say I've enjoyed one thing more than another, just learning to drive the machines is fun in itself!" David adds, "The course is a great thing to do if you're interested in becoming a competent plant operator. I would advise it to anybody, 100%."
For more information on courses visit the National Construction College page.
Return to top