"It doesn't matter who you are - you can do it!"
The career opportunities are diverse.
Jobs are available - it's estimated that 168,500 will be created between now and 2023.
And more and more women are forging rewarding construction careers - and becoming excellent role models in the process.
As Ruby Bhogal, who spoke at CITB's recent International Women's Day (IWD) event, said: "Success is not limited by your gender but yourselves."
One girl inspired by Ruby's words, and with a construction career firmly in her sights, is Tia Fitzgerald-Charles.
Tia, a pupil at Morriston Comprehensive School, is studying a construction and engineering BTEC with the aim of becoming a plumber when she leaves school.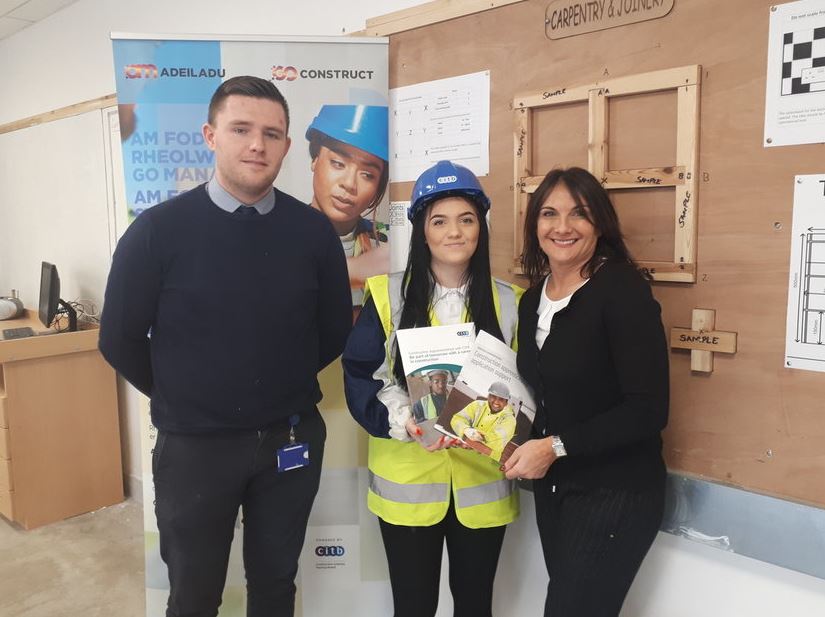 Here Tia, 15, explains her passion for construction and why it's a career that everyone can pursue.
"I chose my options in year 8 of primary school. I chose construction and ever since I've wanted to be an Engineer or in the construction business.
I could change my mind and do other construction work, but for now I'm looking to become a plumber. People make plumbing out to be a bad option but it's so good to do. My brother-in-law is a plumber, he's been doing it for years, he's got his own business and he loves it. 
There are about 19 pupils in my construction class. I'm the only girl. There are only three girls in the engineering class, out of about 30. On a Wednesday its college in the morning, car mechanics, then plumbing before school in the afternoon. The next day I have construction.
In engineering we talk of how things are made and how to use the machinery. The other day, in construction, we built a window frame. Now we're doing tiling and plastering.
If someone said women shouldn't do construction it would annoy me a lot. My two construction teachers say women can be better at construction than men because we're more precise. I'm not bigging myself up but the boys will sometimes ask me how to do things. We have a good laugh. I say to them: 'Seriously, let's sort it out now.'
I'm doing the course until May next year. After that I want to do an apprenticeship. I'd like to go to college for one day a week then go out to work. I can earn and learn at the same time.
To any girls thinking of studying construction I'd say: 'Go for it!' Loads of girls I know say they wish they'd taken construction. Once you know what you're doing it's easy, fun, I'd encourage them so much. I love doing it. It doesn't matter who you are, you can still do it."
Return to top