Inspiring a new generation of groundworkers
"Even at 58 years old I am learning new technologies." Those are the words of CITB Instructor and former Groundworker Tim Heads.
Bircham-based Tim, 58, became a Groundworker after leaving school. He is a good example of age, skills and job diversity in construction.
As Tim explains in the Q&A below, groundworkers have a vital job. They are usually the first tradespeople on a construction site, setting out and preparing surfaces for structural work.

Becoming a groundworker can lead to a good salary and, as Tim's shows, a variety of job options. Newly trained groundworkers can earn £17-£20,000 a year; senior groundworkers upwards of £25,000.
Meanwhile training to be a construction tutor, like Tim, is a fulfilling journey too. As CITB Chief Executive Tim Balcon wrote in a recent blog, experienced teachers are "an important part of the training landscape".
At the start of Groundworks Appreciation Week (Mar 27-31), a new recruitment campaign by AccXel, CITB and Go Construct, we asked Tim about his career and how he became a tutor at the National Construction College.
How did you get started in groundworks?
My dad was a Heritage Builder and during my early years I accompanied him during the summer holidays when he was working locally on historic buildings, such as churches, using traditional methods.
On weekends and after school my brother and I used his tools to build pushcarts, sledges and treehouses. When I left school, it was natural to follow him into construction, albeit a different path. I quickly found that my early practical experience was a huge advantage.
How long does it take to become a skilled groundworker?
It can vary massively; I don't think that anyone can be fully skilled in all aspects of groundworks because the subject is diverse. Even at 58 years old, I am constantly learning as new technologies, processes and materials are brought into the industry.
To confidently understand the basics, I would say it takes 18 months to two years, then further time is needed on specific elements such as concrete finishing, modular paving, drainage and ductwork and deep excavation.
What skills would benefit a career in groundworks?
Being a logical thinker is beneficial as the job is fluid. You need to be flexible working around other trades and the public. You may also encounter other obstacles when working, such as buried services and different types of ground conditions.
You will also need a good understanding of maths (although like everything else, this can be learnt) as you will have to calculate materials required and maybe set out for foundations, footpaths and drainage. Levelling, using automatic levels and rotating lasers, is also very important because the next stages of the construction process must fit.
Teamwork is possibly the most important factor, without it the job will slow, not be completed to specification, or will be incorrectly constructed leading to failure.
What does the career progression look like for a groundworker?
It starts as an apprentice or labourer if an apprenticeship is unattainable, then it's about building up skills which can lead to becoming a skilled Groundworker. This can lead to Groundworks Supervisor and then General Foreman roles.
The sky's the limit really. It depends on the person's individual qualities such as drive, ambition, dedication and ability.
What other careers could a start in groundworks lead you to?
It could lead to specialist activities such as concrete finishing, deep drainage, hard landscaping (kerbing or paving). Perhaps Plant operations, dumper, 180°or 360° excavator, telescopic handler (forklift) slinger -signaller.
A groundwork career can also lead to Site surveying and Site Management jobs.
What made you want to become a tutor?
Before I came to CITB I was working for a large construction and civil engineering company. I was becoming frustrated with constant travelling, meetings and organising site activities six days a week. I also think that I had lost what was important to me. The hours I spent away from home meant my private life suffered.
Fortunately, the company had a regular apprentice intake. During the apprentices' early time with the company, they spent time with me whilst they got used to the day-to-day tasks. I found interaction with them and being involved with their progression very enjoyable.
When the tutoring job at CITB came up a friend recommended it to me. After discussing it with my co-workers and even the company's regional director, they all told me to do it as it suited my skillset and temperament. Apprehensively I applied and got the post.
I am so glad I took the step as it encompasses almost all the best parts of my previous job but very few of the negatives. The biggest plus is being able to pass on my knowledge and skills to the next generation and be involved with growth of their own understanding and skills.
What advice would you give to someone considering a career in groundworks?
Have a go! Working outside is not for everyone but the satisfaction of creating something with your hands is very rewarding. You don't know if you are suited to a job until you try it.
Inspired by Tim? Here's the information you need to become a CITB Instructor. To apply for a groundworks apprenticeship at NCC please click here. Our Go Construct website has all the information you need on how to become a groundworker.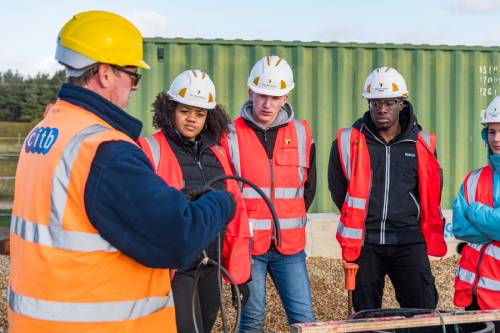 "Have a go! Working outside is not for everyone but the satisfaction of creating something with your hands is very rewarding. You don't know if you are suited to a job until you try it."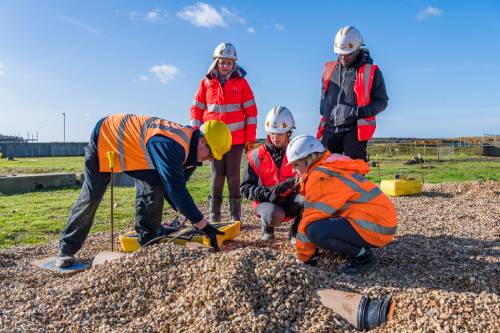 Return to top