History tells us why we must act on climate change - here's what we should do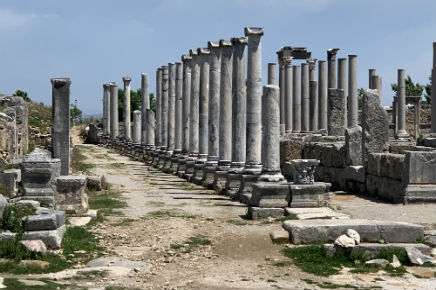 The construction industry is confronted with historic challenges, as well as great opportunities in meeting the target of net zero, including a projected need for up to 300,000 new jobs. As yesterday marked the first Green Jobs Taskforce meeting, CITB's Sustainability and Innovation Lead, Richard Bayliss, tells us more.
Lessons from Antiquity
I have always been interested in big social changes and how they come about. My early career focussed on researching ancient societies; using archaeological and historical evidence to tell the story of long-term change in the way people lived.
Of particular relevance to today, I think, is a series of events that occurred from the middle of the 6th century AD, which transformed the lives of people in the eastern Mediterranean. The breakdown of these societies was largely caused by a global pandemic that wiped out a sizeable chunk of the population, alongside environmental disasters, migrations and climate change.
Very few saw these changes coming, and it happened slowly enough that nobody felt compelled to do anything about it. Only with the benefit of hindsight can we fully appreciate the extent to which peoples' lives changed.
Does this sound familiar?
While I am not heralding the collapse of western civilisation, it's hard not to think that we are entering a period of similarly massive change with comparable factors at play.
The Climate Action Conundrum
With the benefits of science we have more influence than our medieval ancestors over the extent to which external factors will affect our lives, but not if we don't take the opportunities and threats seriously.
Construction industry leaders are unequivocal and united in their ambition to drive emissions from their operations and from the built environment. For business leaders it is both a social responsibility and a business opportunity. We all know we have a role to play, but it's not always obvious what to do to achieve Net Zero by 2050.
As an industry we need to build better, with more efficiency and consistency. This means supporting the innovators who are set on transforming the industry and the way we build. We also need to buy materials and assets with a better understanding (and care) for their whole life carbon footprint. And given that a third of all emissions come from our existing buildings, we need to be part of a huge effort to improve the energy efficiency of our existing buildings.
All of this needs to be achieved in a way that creates sustainable employment and career opportunities.
Building Skills for Net Zero
This requires a collaborative effort on a Herculean scale, and the Committee on Climate Change (CCC) has been clear that it will require major changes in the skills base within industry to assure success. This is why CITB has been working with the CCC and governments, as well employers and employer groups such as the Construction Leadership Council (CLC), to understand the support that industry will need to decarbonise.
CITB has commissioned a skills analysis based on expected net-zero deployment of investment and technology. Our work is identifying new and emerging green jobs and skills that will be needed, and how demand for existing skills will change as we decarbonise.
Some of the early findings indicate a need for up to 300,000 new jobs across construction and building services over the next decade, just to set ourselves on course to meet Net Zero. These will be jobs for project managers, retrofit coordinators, and heat pump and insulation installers, amongst others, highlighting a wealth of opportunity if embraced through skills development.
The low carbon economy is set to grow four times faster than the rest of the economy over the next decade, which means we must also develop the skills to adopt new technologies and processes, if we are to attract the right talent to take us successfully to 2050.
Time to Turn the Tide
Many businesses are already starting to change practices, adopt new technology and make the industry an exciting and rewarding place to work for future talent. Trailblazing SMEs, Melius Homes and RetrofitWorks, are radically transforming the way retrofit is delivered to achieve more reliable outcomes and build sustainable supply chains, depicting just a glimpse of the fantastic work underway.
While CITB's Construction Skills Network (CSN) interim report forecasts a Covid-related fall in employment of between 10-14%, our Net Zero research indicates that the workforce will need to increase by 13% in the next decade to deliver projected decarbonisation work. The Government's planned investment in decarbonisation therefore presents a great opportunity for a green recovery, supported by reskilling to retain talent.
The positive and effective collaboration seen across the sector as a response to the Coronavirus pandemic gives confidence that the industry has the leadership, resources and talent to transform the way we operate. CITB's insight on Net Zero will help by providing a routemap for collaborative action and investment on skills to harness these attributes, and help the industry build a better future where net zero becomes a reality.
If we do that, we will have shown how centuries of human progress have equipped us to enhance our quality of life, even when faced with the most difficult challenges.
Return to top