"Happy to be moving forward" – Mike gets on track with bricklaying course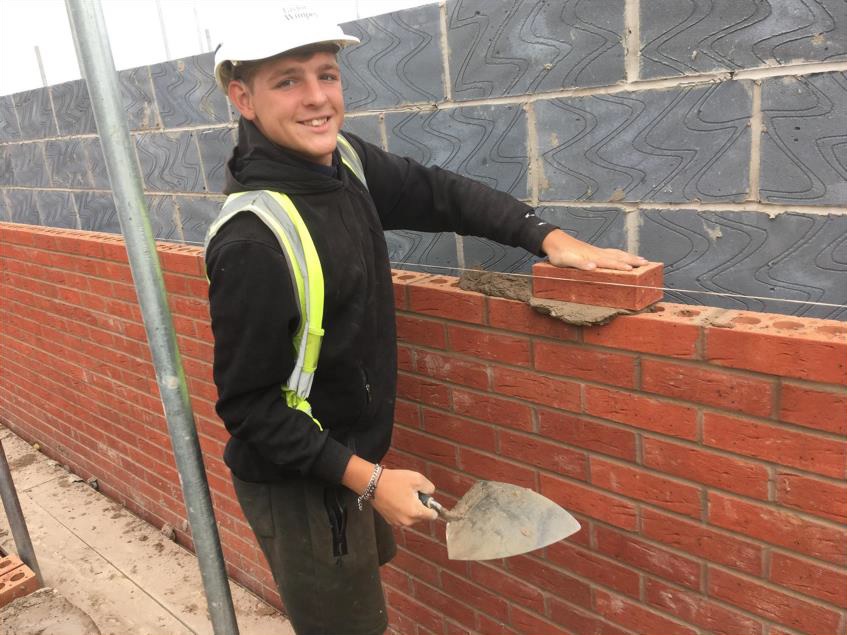 20-year-old Mike Blunt from Andover has worked hard to be where he is today. Being deaf from birth may have deterred others from pursuing a career in construction, but Mike has never viewed it as a reason to hold him back. He received a cochlear implant when he was three which has helped him greatly, and ensured his aspirations were never restricted.
Mike moved on to study bricklaying at college, and his strong work ethic enabled him to secure an apprenticeship with Taylor Wimpey in 2017.
However, when his apprenticeship came to an end in the summer of 2019, there were no available positions to progress into. He also didn't have a CSCS card, making it harder for him to get back into construction. This led to Mike taking on sporadic work in a warehouse but like many others, his work was heavily affected once the pandemic hit.
"I knew if I got my CSCS card, I would have a good chance of getting back into bricklaying, which is what I really wanted. My girlfriend was pregnant so it was really important that I got back into work quickly."  
Following a meeting with a DWP work coach, Mike discovered Hampshire County Council's Construction Skills Fund (CSF) course in Winchester. Through undertaking a virtual course run by the Training and Recruitment Partnership, he successfully secured his CSCS card this summer.
Established to train a site-ready workforce ready to meet the needs of the construction industry, the £20 million CSF launched in October 2018. CSF helped create 26 new on-site training hubs across England. 14 of the hubs have been approved to continue operating to June 2021 including Hampshire CSF. Many learners at the hubs are new to construction having previously worked in other sectors.
With support from Hampshire County Council, Mike's since found employment as a trainee bricklayer with Persimmon, and is delighted to be getting back on track. 
He explained, "Getting onto the CSF course and gaining my CSCS card has made all the difference – it's opened doors for me. If I hadn't done this course, I might still be sat at home but I'm so happy to be moving forward now. It's sorted out my future."
Return to top