Green Careers Week - Every job is a green job
The first ever Green Careers Week takes place this month.
The aim of the campaign, which runs from November 07-12 is to shine a light on green career pathways. CITB has just published a dynamic Net Zero Action Plan which looks at the construction skills needs of the future.
The plan follows feedback from the construction industry which said greater clarity is required on the skills required to prepare for net zero.
The plan will see CITB develop new standards and qualifications, target funding towards net zero priority skill areas and undertake research to identify future skills needs.

The climate change issue is so great from now on every new construction job is a green job.

As Construction Industry Training Board (CITB) Chief Executive Tim Balcon says: "It is inconceivable that any individual undergoing construction training should complete their course without achieving an appropriate level of knowledge about climate change - and how their new skills could contribute to net-zero goals."
As part of the Green Carers Week campaign, the CITB spoke to apprentices, students, graduates and educators from Further Education and Higher Education sectors to hear their views on arguably the biggest issue facing the world today.
Anjali Pindoria, Project Surveyor at Avi Contracts and a Go Construct STEM Ambassador, is passionate about sustainability and inspiring others to consider a career in construction and the built environment.
Sustainability, climate change and net zero are buzz words of our generation, but how many of us understand the meaning and its importance on our future? How many of us know that our actions today or lack of, are impacting our future?
To become more sustainable, we need everyone on the journey, and we need to encourage collaboration to achieve real change. We need more of you as the future leaders of tomorrow to enter our sectors and help to influence the legacy we leave behind.

Achieving net zero targets are a way for us to benchmark if we are living in a more sustainable world, or if we are still contributing to climate change. Retrofitting existing buildings will play a huge part in how we reduce our carbon emissions, given that 95% of emissions from the built environment over the next 30 years could come from existing buildings.

We, as the next generation, can't afford to sit idle. We must act as our actions are irreversible. We must act or the world we live in today may face consequences unknown to us all.
Click here to see Anjali talk about all things sustainability and net zero, as well as A Day in the Life of a Project Surveyor.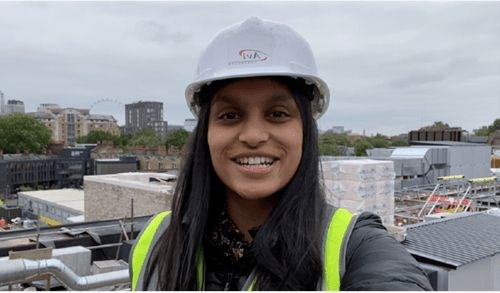 Charlie Reeve, trainee site manager and carpenter at E.N Suiter & Sons.
I started carpentry from a young age, completing projects with my dad. I did a carpentry apprenticeship and I've gone on to study a Higher National Diploma (HND) in Construction and Built Environment to become a site manager.
For me, the future of construction is in eliminating risk and bringing in new technologies, such as automated plant and automated machines to remove the associated risk.
It is every individual's responsibility to make construction more sustainable by trying to use newer and modern alternatives, to reduce carbon emissions and eliminate them if we can.
Click here to watch Charlie's full interview as part of the CITB and WorldSkills UK Spotlight Talk on careers in construction and the built environment.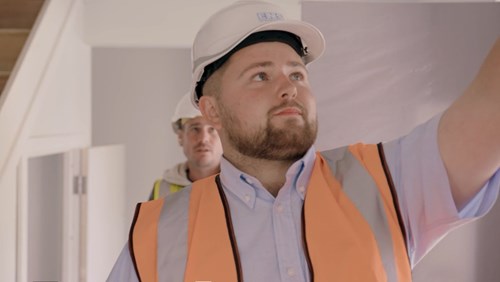 Gracie Brill, apprentice joiner at Edinburgh College and The Ridge.
For Green Careers Week and Scottish Careers Week, we're celebrating apprentice joiner, Gracie, who studies at Edinburgh College and works at The Ridge, a charity founded to protect local environmental heritage and historic buildings in Dunbar.
My work is really varied, which I find enjoyable. From site work to furniture construction and repairs, we do a bit of everything. We also focus on historical restoration and methods, so I've had the opportunity to work on some quite interesting things, like hand-making and restoring old sash and case windows.
It's cool having a job where you get to make stuff every day and learn how the built world around us works. I think apprenticeships are great. Having a job where a major part of your work is just studying and improving your skills is such an amazing opportunity.
After sailing through her regional qualifiers, Gracie will compete with over 85 finalists at the SkillBuild 2022 National Finals. Described as 'the UK's construction Olympics', SkillBuild is delivered by CITB in conjunction with WorldSkills, The final will take place at Edinburgh College from November 14–17.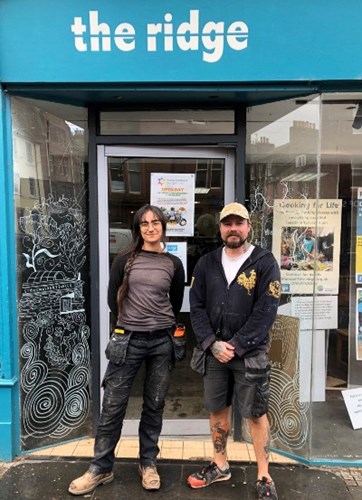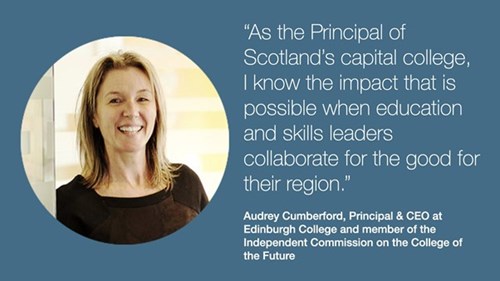 Audrey Cumberford, Principal of Edinburgh College
Edinburgh College has recently opened a ground-breaking Renewables and Energy Efficiency Training Centre, focussing on the future of construction and housebuilding with new and emerging technologies.
We are not just skilling up for today, we are very much upskilling and reskilling for the future, driven by new and emerging renewable technologies. The role of Edinburgh College in ensuring the industry has a pipeline of skilled individuals ready to take the net zero agenda forward is of critical importance.
The college will also be hosting this year's SkillBuild National Finals, which sees the best of the best compete against each other to test their construction skills in 11 trades.
Return to top