Funding awarded to inspire young people into construction in Scotland.
CITB has awarded The Edinburgh Chamber of Commerce £280,000 to inspire and support young people in Scotland to pursue a career in the construction industry through a programme of Construction Work Tasters.

This programme of Work Tasters will reach 2,800 young people aged 16-25 nationally over the next three years and will support CITB's aim to encourage talented young people to join and remain within the construction industry.
This includes more young people from diverse backgrounds, including those without a connection to construction, who are inspired to pursue a career in the industry.

The funding will also support employers across the construction sector to attract and recruit young talent and build a pipeline of future talent through engagement in the programme.

The project delivery for the Construction Work Taster programme will be led by Developing the Young Workforce in partnership with construction industry leaders and employers across Scotland.
Jamie Hepburn MSP, Minister for Further Education, Higher Education, Youth Employment and Training, said: "The Construction sector is critical to Scotland's economy with 48,700 job openings across the sector by 2031 providing meaningful employment for the current and future workforce.

"This programme of Work Tasters will help talented people join and remain within the construction industry and inspire young people from a diverse range of backgrounds to pursue a career in construction."
Michael Lennox, Senior Customer Engagement Manager at CITB Scotland said: "CITB will invest £233m in construction training in the next year and the development of Work Tasters is a critical part to this.

"Employers have told CITB that traditional work experience initiatives do not fit with modern construction sites, or assist SMEs with recruitment. This industry investment of £280,000 will bring almost 3,000 young people closer to working in construction and a new approach for employers to inspire future apprentices and embed a new approach."

Emma Dickson, Skills Chair at Construction Scotland said: "Construction Tasters is not only about inspiring young people into construction, but importantly helping them to pinpoint the best role for them in construction. Construction careers are wide ranging, from bricklayers and joiners, to project managers, planners and engineers; it's a minefield of opportunity, and can be daunting.

Construction Tasters will form the next step from Build Your Future, which provides young people with an introduction to construction. It will be important for industry to work closely with DYW on this project, which also aims to inspire young people who wouldn't normally consider a career in construction. It is crucial that we diversify to support the net zero and digital agendas."

For more information on how industry partners can get involved, please contact info@edinburghchamber.co.uk.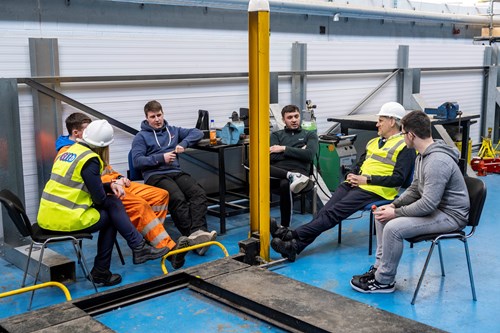 Return to top