From salon to site: Gina's journey
Choosing the right career path can be a confusing time for many young people. The pressure of making decisions about which direction to take looms at a time when you might still be discovering all of the available options.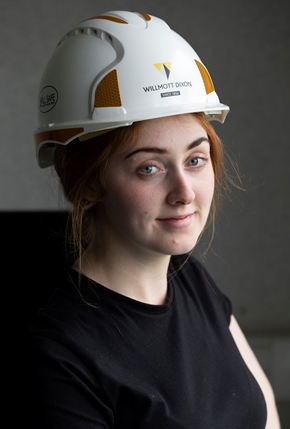 23-year-old Gina Gray has been on her own journey of discovery and found herself in the world of construction after completing a five-year plan as an exercise for her college Business Studies course. This was when Gina started to consider alternative career possibilities.
"I've always been fairly creative," says Gina. "I'm into my home improvements and loved shows like Homes under the Hammer."
Back then a career in construction was far from foremost in her mind. When Gina was at school in Scarborough, she wanted to be a hairdresser, and at 14 she got her first job working in a hair salon.
"I wanted to go into hair and beauty," says Gina, "And it was only when I started looking at other qualifications, I became intrigued by the construction industry." After putting her future plans in order, Gina began to set her sights on the property development route.
"I studied architecture for a year at the University of Manchester but I didn't enjoy Uni. That's when I applied to Willmott Dixon."
Gina moved on to join Willmott Dixon as a Trainee Build Manager and now assists in the running of a major site in Liverpool city centre.
As part of her training, Gina attended the Willmott Dixon Trade Awareness course through the National Construction College (NCC) in Bircham Newton, Norfolk.
"The facilities at NCC are fab," says Gina, "And it was good to have a go at what the workers on site do. It's a very practical course, which is what I like. I wish it was an annual thing where you come back each year and learn a different area!"
The 10-day course takes the learner through a variety of trades including surveying, plastering and joinery.
"The best thing is the exposure you get towards the trades," says Gina. "It's not too focused on one thing so you get a real taste for variety."
Reflecting on some of the highlights, Gina was keen to mention the instructors who were always there to reassure her when she couldn't quite master a task.
"The instructors were great – brilliant and eccentric! They made the whole experience. They seem to enjoy what they're doing and enjoyed having the group there."
Gina is approaching the end of her first year with Willmott Dixon but the traineeship will take five years to complete. She explains: "It rotates through disciplines, as they assess your strengths and weaknesses and steer you onto the right path."
Looking ahead, Gina hopes that in 5 years she will not only have finished her course but be in a position where she fully understands her role.
"I still intend to get into developing," says Gina, "After studying the business side I realised I needed to get construction knowledge. I love my job – it's hard but every day is different."
Now Gina visits schools and speaks at careers fairs in the hope that other girls who once dreamed of hairdressing will instead think about hod-carrying and other construction trades.
"Construction is a huge part of everyone's life," says Gina. "The things we build are all around us. There are fresh challenges every day – just when you think you've got one aspect of your work sorted, something else will come along. I love that."
Return to top