Case-study
01 February 2023
Enabling the enablers: Using CITB funding for specialist training
From upskilling staff to attracting new recruits and increasing the services they offer, the team at Sanctus have enjoyed a wealth of benefits as a result of applying to CITB's Skills and Training Fund.
For over 22 years, the company has been the UK's leading environmental consultant and contractor. While classed as a small business, this mighty team have worked on some of the most challenging brownfield and blue and green infrastructure projects across the country. From developing derelict sites, to bringing new life to asbestos-filled soils, they're often involved in the early stages of large construction projects, appearing first on-site as project enablers, to assess the ground, survey existing ecology and conscientiously prepare for work to take place.
As CITB registered employers, they've known about CITB's training funding for a long time - and they've made frequent use of this pot of money to upskill their team.
Alex Willison, Contracts Director at Sanctus said, "Over the last few years, we got to a point where we almost struggled to spend some of the funding because everybody within the business was already so upskilled in plant training from CITB…but we've had a few people move on recently and it's allowed us to invest in new people coming into the business."
When it comes to recruitment, at Sanctus, training is a large part of the appeal. So much so that, during interviews, applicants are told about the training opportunities on offer, which are all supported by CITB.
Alex said, "People starting their careers want to know that they're not just going to be stagnant. They want to know that they'll be upskilled and know, "If I ever move on, I can take those skills with me." So development within the business is definitely an incentive to anyone who's starting."
As well as training on plant and machinery, Sanctus staff often require alternative skills as part of the job. As their staff were already so well-equipped, in recent years, the business has applied for funding from CITB to train colleagues as Water and Flood First Responders.
Alex was hesitant to apply at first, as the course wasn't focused on increasing 'traditional' construction skills. However, as enablers within the construction space, he qualified his case: "Our team needs to be aware of the dangers of working around fast-flowing water…it's still related to the construction industry, but we need specialist training to make sure they stay safe."
Similarly, as members of the Property Care Association, it's a requirement that Sanctus has trained staff who can spray and excavate Japanese knotweed. Alex and his team approached their CITB adviser to ask whether this training could be also covered by the Skills and Training Fund.
Alex said, "Traditionally, it had been looked at as agricultural or amenity work and not directly associated with construction."
However, their CITB adviser examined their case and, in September 2020, was pleased to offer £4,999 - for free - to cover the cost of these both skills programmes.
Alex said, "We're all about increasing what people can do."
"Going forward, we're still utilising CITB funding. It's very useful. Our staff are always keen to upskill and CITB provides that opportunity to offer more training."
Ready to apply to CITB's Skills and Training Fund? Contact your CITB adviser today to find out how we can help you cover your staff development costs.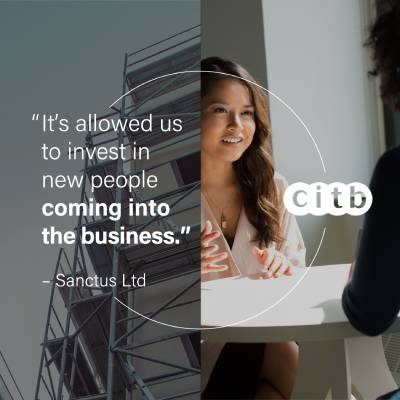 Snapshot
Company: Sanctus
Sector/s: Environmental engineering consultants and contractors
Challenge: To access specialist training, to train surveyors and site staff ahead of site visits
Solution: CITB advisors researched their enquiry and awarded the full costs to cover training
Impact: Sanctus has attracted new recruits and increased the services they offer
"We're all about increasing what people can do."
Alex Willison, Contracts Director at Sanctus
Return to top