CSF gives Paul new appetite for life
In February 2020, 54-year old print manager Paul Whitlock decided it was time for a fresh start and to undertake a new challenge. Having refurbished a few properties in his spare time he decided to set up as a painter and decorator as it was something he could turn his hand to quickly, without needing to go through the lengthy training necessary to become a plumber or an electrician. It also meant he could start earning money relatively quickly.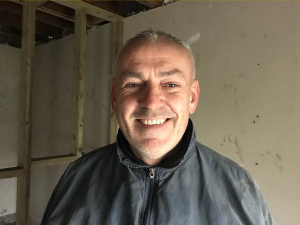 "I knew I could do it," says Paul, "and I thought it would be something people would want, even in a pandemic – people are spending more time in their houses and might even have more money because they're not able to go on holiday."
A work coach at Eastleigh Job Centre directed Paul to a Construction Skills Fund course hosted at the Willmott Dixon building site in Winchester. Having qualified and obtaining his CSCS green labourer's card in October 2020 he is now helping to renovate a former NHS building in Winchester. Having worked as a printer for over 30 years, Southampton-born Paul relished the fresh challenges of the construction industry.
"As a printer I'd worked mainly in a factory environment," explains Paul, "So at first the building site environment was something of a culture shock."
As a 15-year-old Paul had worked weekends on sites with his father, a builder, so he had some insight into the world of construction. Nevertheless he was surprised by how much construction has changed.
"Health and safety is a lot tighter now," laughs Paul. "When I worked on sites as a teenager it was a very different place. Now you're given proper briefings about spillage, trip hazards and all the rest of it. There's no doubt the working environment is much safer now."
Paul's change of career coincided with the Covid-19 pandemic, which presented its own challenges.
"To be honest, the pandemic hasn't been much of an issue onsite," says Paul. "In fact I'm often in a room working alone, and due to the nature of the work I have to wear a mask anyway. The employers are very safety-conscious and I know that if I had any concerns I could always approach them."
Established to train a site-ready workforce ready to meet the needs of the construction industry, the £20 million CSF launched in October 2018. CSF helped create 26 new on-site training hubs across England. 14 of the hubs have been approved to continue operating to June 2021 including Hampshire CSF. Many learners at the hubs are new to construction having previously worked in other sectors.
Paul certainly has no regrets about changing career and finding work in the construction industry.
"The training I received from the CSF has helped me feel more grounded and confident in my new career. Despite the pandemic, I keep getting offers of work and feel confident that this is a secure future for me. The job has given me a new appetite for life – it's so different to what I've done for the past 35 years. I've got a zest for work now."
Return to top