CSF case study: Scarborough Skills Village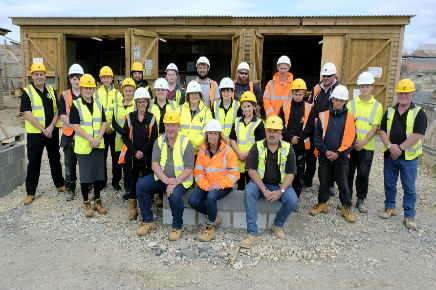 The Construction Skills Fund (CSF) aims to increase the number of people trained in construction, tackle the skills shortage and help build the homes and infrastructure England needs. Funding in excess of £20 million has been awarded to 26 projects in England to support the development of construction on-site training hubs.
The Department for Education funds 24 of the learning hubs; CITB funds two more and oversees the entire project. Here, CITB looks at one of the learning hubs – Scarborough Skills Village in Yorkshire, an innovative learning hub which provides new skills for people keen to enter the construction industry.
The Village opened in 2015 and received £400,000 from the CSF in December 2018 with the aim of addressing the skills shortage through accredited courses and training. 
In October, the Village is relocating from its current base at Middle Deepdale in Eastfield to High Eastfield Farm. With many areas of the new site in need of development, it will also provide great opportunity for trainees and apprentices to get involved with work. The Skills Village has already found employment for 34 apprentices in the construction industry and this figure is expected to grow following the move. 
The move to a larger site was made possible following the approval of planning permission by Scarborough Council in August. Richard Bradley, Scarborough Council Commercial Director said: 
"By approving the change of use application for High Eastfield Farm to create a new home for the Skills Village, we are continuing to support this excellent initiative that provides training and employment opportunities for local people."
Graham Ratcliffe, managing director of Northern Regeneration, which runs the Scarborough Construction Skills Village, added:
"I would like to thank Scarborough Council for its support which has helped to assist the latest expansion plans of the successful Scarborough Construction Skills Village. The move to the new bigger location, with a greater range of buildings and with areas for development which the Skills Village trainees and apprentices will help to refurnish, is a major boost for the expansion of much-needed construction opportunities."
High Eastfield Farm comprises traditional agricultural brick buildings and a steel-framed sheet clad modern agricultural store building, with a combined floor area of 1,300 sq. m. The buildings are in a poor state of repair and the regeneration of the site will benefit the whole community. The transformed site which will provide a reception area and offices, lecture space and canteen, as well as training areas including scaffolding, bricklaying, plastering, joinery, plumbing, heating and electrical training. 
CITB Local Manager Lynne Allison said:
"This move represents a tremendous leap forward. It demonstrates how the Construction Skills Fund is making a difference in Yorkshire – for construction businesses and the apprentices and trades people who can join the industry as a result of the work of the Skills Village. In the local area, across Yorkshire and throughout the country, the skills gap we are filling, and the link we are creating between education and business, will be greatly helped by the expansion of this training hub, which is producing a site ready workforce for the future of construction."
Return to top