Construction trainees shine at the 2019 SkillBuild final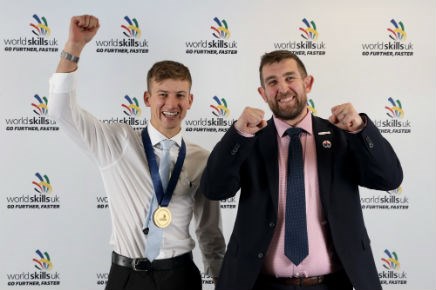 Nearly 80 construction trainees were in the spotlight last week for the Construction Industry Training Board's 2019 SkillBuild final, held at the NEC in Birmingham.
SkillBuild, the largest multi-trade competition in the UK, showcases the talent of construction trainees and forms a part of WorldSkills UK LIVE. This year's three-day event attracted roughly 70,000 people from families, educational institutes and employers, exhibiting the variety of skills and career opportunities available.
The UK National Finals took place across four industry areas; Construction & Infrastructure, Health Hospitality & Lifestyle, Digital, Business & Creative and Engineering & Technology. The top scoring age eligible competitors have the chance to progress onto EuroSkills in Graz, Austria, 2020 and, if successful, will be invited to compete at an international level.
The medal winners from SkillBuild are:
Bricklaying
Gold - Adam Batty, Barnsley College
Silver - Nathan Jamieson, York College
Bronze - Lee Woodward, Stafford College
Carpentry 
Gold - Cai Henshaw, Grwp Llandrillo Menai
Silver - Jason Wong, Nottingham College
Bronze - Andy Thomson, South Devon College
Furniture and Cabinet Making
Gold - Jack Eggleston, Cornwall College
Silver - Finlay Champion, Chichester College Group
Bronze - Charlie Teager-Neale, Colchester Institute
Joinery
Gold - Alex Howe, West Suffolk College
Silver - Ross Fiori, NCG Carlisle College
Bronze - Harry Colgrave, Exeter College
Painting and Decorating
Gold - Gatis Celmins, Inverness College UHI
Silver - Lewis Boyle, Leeds College of Building
Bronze - Abigayle Johnson, Leeds College of Building
Plastering
Gold - Raymond Stirling, City of Glasgow College
Silver - Tom Joy, College of North West London
Bronze - Thomas Burrow, Preston College
Plastering and Drywall Systems
Gold - Brendan Duddy, North West Regional College
Silver - Kalem Kerrigan, Errigal Contracts
Bronze - Alfie Howe, College of North West London
Roof Slating and Tiling
Gold - Jordan Condren, Newcastle College and Philip Houghton, Eastern Region Training Group
Silver - Joseph Osborne, Leeds College of Building
Bronze - David Crank, Newcastle College
Stonemasonry
Gold - James Digger, York College
Silver - Josh Harvey, Weymouth College
Bronze - Jake Watson, Inverness College UHI
Wall and Floor Tiling
Gold - Dylan Calvert, Southern Regional College
Silver - Dylan Gillanders, Southern Regional College
Bronze - Aaron Gillespie, Southern Regional College

The Inclusive Skills category took place on the final day of the competition. It offers the opportunity for learners with special educational needs to showcase their skills.
Inclusive Skills: Woodworking
Gold - Lewis Hall, Coleg Sir Gar
Silver - Joshua Bradbury, Coleg y Cymoedd
Bronze - Nicholas Price, Pembrokeshire College

Top of the bill, giving a Spotlight Speech at the event, was 'DIY SOS' chippy and former apprentice, Mark Millar. After visiting the construction area, Mark said: "Events like this open people's eyes and give them a glimpse into a career in construction. We put roofs over people's heads and can be proud of what we do. The world is your oyster if you qualify with an apprenticeship."
Sarah Beale, CITB chief executive, said: "It's fantastic to see a group of talented people from across the nations come together for the National Final. SkillBuild is one of the many ways we can demonstrate the level of expertise within the industry, and attract more young people into a rewarding career in construction".

Global workwear brand Dickies sponsored the UK National Final of SkillBuild, providing clothing and safety footwear for all staff and contestants, as part of its efforts to support the next generation of tradespeople.
Return to top