"Construction skills allow you to work all over the globe"
Globe-trotting stonemason Jon Langstone has packed a lot into his career.
Since becoming an apprentice in 2011, CITB-supported Jon has:
Guided Anne, Princess Royal, on a tour of a restoration project he worked on
Put his stonemason and project-leading skills to the test in Canada
Returned home to Swansea to study a construction manager course at university.
Here's how Jon, who was inspired to begin his apprenticeship after seeing Channel 4's Grand Designs, has enjoyed such a varied career.
Apprenticeship
Jon, who grew up in Swansea, qualified as a stonemason in July 2014 via a three-year CITB apprenticeship which saw him work and train in Cardiff, Bristol and Bath.
"Initially, I was lucky enough to find an employer willing to take me on as an apprentice in Cardiff," recalls Jon.
"I started my apprenticeship as a banker-stonemason, a stonemason that carves architectural stone components by hand."
On one occasion, at Oystermouth Castle in 2012, Jon had the opportunity to guide Princess Anne around a local castle restoration project he worked on.
Jon built on the gratifying achievements of his first year by moving to a stonemasonry company in Bristol, completing his training at the City of Bath college.
In doing so Jon says he gained "invaluable experience with stonemasons on beautiful projects dotted across southern England."
Canada
One of the benefits of a construction career is its portability – you can take your skills across the world. In 2017 Jon made the journey to Vancouver, Canada, where he put his skills to the test.
"I spent three years developing my skills, not just as a stonemason but as a leader on many projects spanning the whole of British Columbia and sometimes beyond," says Jon.
Like many people, Jon had to make big decisions at the onset of the COVID-19 pandemic.
In early 2020 he decided to return to his roots in Swansea and study as a mature student, on a construction management course, at the University of Wales Trinity Saint David (UWTSD).
"I am excited to graduate in July and secure a role as a graduate construction manager," says Jon.
"It is with a company which will help me develop the skills to become a confident and competent project/construction manager in the years to come.
"I still hope to keep my chisels sharp for the odd stonework project as well," he says.
Challenges
Reflecting on his career, Jon says one of the toughest challenges he has faced is working outside in winter.
"As a stonemason, I'd guess that 80% of the work I have experienced has been outdoors," says Jon.
"This comes with its challenges, as rain and frost can have a negative effect on a workforce after some time.
"Another challenge that I have faced is the excessive daily commuting to projects. After spending two hours on the motorway, after an eight-hour day on the tools, the week can wear you down."
Enjoyable
No job is perfect and overall Jon is one of those people who finds his work fulfilling and enjoyable.
"I enjoy walking away from a project and then revisiting it after a year to admire the work carried out," he reflects.
"I recently carved a large shield to commemorate the 200th anniversary of UWTSD. I designed, cut and carved the stone. This gave me great pleasure as it is likely to be displayed in my local city for many years."
Jon has excellent advice for people considering a career in construction. Research, he says, is crucial.
"Please do your research before jumping into a career in construction. I recommend you complete a placement as this will help you understand what working on a construction site is like."
Jon says a career in construction is challenging but extremely rewarding in the short and long term.
"Construction offers life skills that you won't find anywhere else," he advises.
"Gaining skills within the construction industry will allow you to work all over the globe."
Inspired by Jon? Like to become a stonemason. Our Go Construct website has the information you need to get started.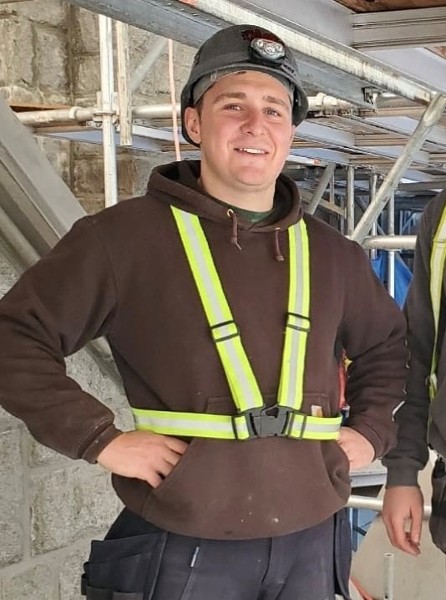 Return to top