Construction opportunities on offer for 20 career-changing women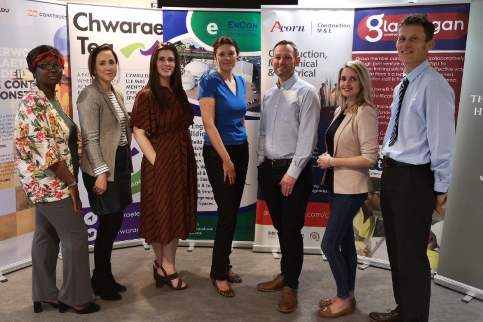 The event, hosted by Encon Construction, will recruit women wishing to work in a range of housing-related trades, along with companies willing to train them.
The event is the first of Encon's two-and-a-half year "Career Changers - Women into Construction Project". It follows their funding award of £256,266 from the Construction Industry Training Board (CITB) to develop opportunities for career-changers.
Just 14% of the construction industry is made up of women. Figures estimate that 0.2% of these are female tradespeople. For this reason Encon's CITB-funded project will focus on re-training women in painting and decorating; plastering and labour (with an emphasis on plant).
Commenting on the event, CITB Local Manager, Victoria Walsh, said: "Encon's recruitment day is genuinely exciting because it will offer new, life-changing opportunities for career-changing women. They will have the chance to develop their existing skills, learn a trade and gain an NVQ Level 2. Training and working arrangements will be tailored and flexible. The project will also see women trained to become construction mentors: good for women, good for construction, good for Wales."
Collaborating with a range of partners, Encon's Wales-wide Career Changers project will see 50 mentors trained in total, including 10 or more achieving a higher level qualification. A minimum of 10 companies will receive training in how to overcome "Unconscious Bias". Firms will be encouraged to facilitate an "agile approach" in the workplace.
Danielle Aberg, Career Changers Project Manager said: "Our Project partner Chwarae Teg found that £13.6bn could be added to the Welsh economy if we were to achieve greater gender equality, and this is where that starts. We are enabling women to retrain by ensuring they can still meet their needs and those of their families, with paid training roles, flexible working opportunities, professional development sessions and mentoring that aims to recruit and retain them in the workforce."
Encon Managing Director Phil Woodward said: "We are excited to be spearheading such a valuable project. We want to make the construction industry accessible and attractive for all. This project works from the grassroots through to the top of the chain to implement a solution that is innovative, affordable, sustainable and impactful."
The media are welcome to attend the event. Interview opportunities will be available. For further information please contact CITB Wales Press Officer John Gilheaney. Tel: 07456 659782 E-mail: john.gilheaney@citb.co.uk
Return to top