CITB to host SkillBuild finals at National Construction College  
The UK's top construction trainees will battle it out on 16-18 November at CITB's SkillBuild National Finals.      
SkillBuild, the largest multi-trade construction competition in the country, will see more than 50 finalists from England, Scotland, Wales and Northern Ireland compete in their specialist skills.    
The competitors will be set an 18-hour project to complete across the three days of the competition, which is set to take place at the National Construction College in Bircham Newton, Norfolk.
A series of remotely-delivered qualifiers ran across the UK during May and June, with nearly 100 colleges and training facilities supporting 250 competitors in their respective skills – bricklaying, carpentry, Foundation Skills: woodworking, furniture and cabinetmaking, joinery, painting and decorating, plastering, plastering and drywall systems, stonemasonry and wall and floor tiling. In addition to their physical tasks, competitors were set a new online assessment, which tested their understanding of employability aspects such as Health & Safety.
Those competitors who will progress through to the SkillBuild 2021 National Finals will be announced, by WorldSkills UK, in mid-September.
Sarah Beale, CITB Chief Executive, said: "SkillBuild is a terrific opportunity for young talent in the construction industry to shine, and I wish all participants the very best of luck. We're delighted to be hosting the National Finals at Bircham Newton, it's great that even with so much uncertainty during the past year the competition continues to proceed, albeit with significant safety restrictions."
Long-term sponsors of SkillBuild who will be involved again in November include BAL, British Gypsum and Crown, with Michelmersh joining to support bricklaying competitions. CITB is extremely grateful to all organisations and agencies helping to showcase the quality and potential of the next generation of tradespeople. 
Find out more about  SkillBuild, and how to take part in next year's competitions.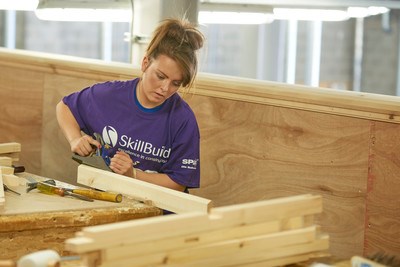 Return to top