Bouncing back: Medway residents set for new construction careers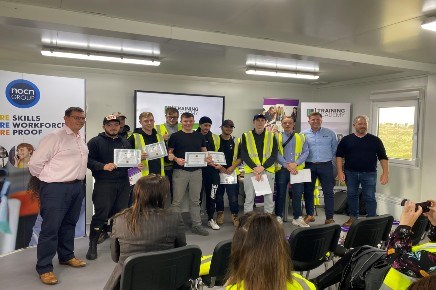 A celebration took place on Thursday (14 October) to mark formerly unemployed Medway residents completing a programme to enter the booming construction industry. 
The graduation ceremony took place at the Dalefield Way Industrial Park, Gravesend, base of building contractors O'Halloran & O'Brien (OHOB), which saw group members receive certificates and job offers.   
The Get Into Construction scheme, funded by the Construction Industry Training Board (CITB) with support from Medway Council, saw a fortnight of intense training for the eleven residents in a variety of skills including in scaffolding, site safety, asbestos, steel fixing, practice job interviews and vehicle marshalling. 
The programme has led to qualifications for the residents enabling them to work on a construction site straight away, or undertake an apprenticeship, or specialise in further training for an in-demand trade such as scaffolding.   
Logan Murfitt, 23, was offered a job with Alltask Scaffolding after completing the course. He said: "I have done lots of different jobs but wanted to get into construction because of the chance to progress. I have a five-year plan and construction gives me a structured way to progress. This course was really good and has given me a chance to get a job."  
Taylor Curle, 21, graduated from the training course and has also been offered employment, with OHOB. He said: "This course has been so unlike anything I have done before. Nothing like school or even college. I have been treated like an adult and been given respect. I have been able to try different jobs and to see what I like to do."  
Celine McGeown, CITB Customer Engagement Manager, said: "Medway, and Kent, are set to see several major developments in housing and infrastructure in the coming years, and it's great that with Get Into Construction people in the area have the opportunity to take advantage of this. 
"With the industry booming this is exactly the right time for local residents looking for a new career to train up and embark on an exciting and rewarding career."   
Construction in the South East has bounced back strongly from COVID-19 meaning 16,750 additional jobs have to be created by 2025, according to research from CITB.  
The industry in the region is expected to grow by an annual average rate of 4.4%, and recovering to pre-pandemic growth levels by 2022. 
Cllr Rodney Chambers, Medway Council's Portfolio Holder for Inward Investment, Strategic Regeneration and Partnerships, said: "I am pleased that the Get into Construction programme has been a success for young people in Medway. The programme has given younger residents qualifications and construction skills which they will carry with them in their future careers. I hope the candidates that have completed the programme enjoyed their celebration and I would encourage more young people to sign up to the rewarding programme, which supports our ambition to become a Child-Friendly City. We offer residents many opportunities in apprenticeships and training programmes, find out more at medway.gov.uk."
To be eligible for Get Into Construction training, delivered by OHOB and Medway Adult Education, you must be a Medway resident aged over 16 not in education, employment or training.  
Return to top