Act now or waste a generation of potential
Those heady first years after leaving school are a crucial time in a young person's life. Goodbye, classroom; hello, brave new world.
I have been lucky enough never to be unemployed; by the time I graduated in 1986, the mass unemployment of the era was beginning to ease. Unfortunately, parents now have children who will enter a very different workplace to the one where I began working life.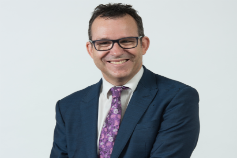 As we continue to emerge from lockdown, construction has an essential part to play in getting the economy moving again and giving hope to young people emerging from the classroom.
Chancellor Rishi Sunak's commitment to spend on infrastructure projects, a pipeline of planned work plus the autumn update should give employers vital confidence. However, there is a risk that such announcements might raise expectations in young people that cannot be fulfilled – in other words, that there are jobs in construction for anyone who needs them.
Providing a better start
To avoid this outcome, industry and the further education system must collaborate to ensure young people can access training and employment routes into the construction sector in the short and long term. I know that thousands of construction employers would love to give young people a good start by providing relevant paid apprenticeships.
Worryingly, however, the continuing uncertainty means that a significant number of employers probably won't be able to provide apprenticeships this autumn. Even if the economic situation improves by the summer of 2021, the 'Class of 2020' could be left behind.
This predicted shortfall in the number of apprenticeships should mean more school-leavers will enter further education this month, but this route has historically struggled to deliver success for construction learners and employers. This is why building better bridges between FE and industry is crucial.
The Department for Education has now agreed to work with the construction sector to develop proposals for an expanded traineeship with the aim of piloting this next year. This would form a critical part of the new transition route from further education into employment or an apprenticeship in construction. As part of a commitment to the Construction Leadership Council's Roadmap to recover, CITB has led on this work in partnership with the Association of Colleges and British Association of Construction Heads.
Bridging an age-old gap
The construction traineeship would support 2,000 FE learners in the next academic year. As well as creating opportunities for young people and giving employers some breathing space, it would help to bridge a longstanding divide between FE and the world of work – addressing an area where the government is looking to make progress and employers are desperate for them to succeed.
The success of the Construction Skills Fund (CSF) in England, funded by the DfE and administered by CITB, could also play a key part in skills training and job opportunities for a generation of school-leavers.
More than 13,200 learners have passed through CSF learning hubs and emerged site-ready. Of these, 7,000 from groups that have traditionally been under-represented in the industry – including women, the disabled, and black, Asian and minority ethnic people.
At the end of May, 3,327 learners had been placed into jobs, including 805 apprentices. 90% of learners were unemployed when they joined the hubs, demonstrating CSF's positive community impact. In June the DfE recognised the success of the CSF by extending the scheme for another year.
Another great illustration of industry's ability to adapt and innovate has been the Talent Retention Scheme (TRS), an online portal that allows skilled individuals to showcase their experience and expertise and helps businesses across the industry find the skills they need. Hundreds of employers have already signed up and we hope the TRS will expand to support more employers – and potential employees.
Now more than ever, it is essential that government, employers and colleges work together to help as many of those that have lost jobs get back on the path to work.
It will take a lot of work to turn ideas such as these into reality. But the risks of allowing a generation of potential to go to waste and of repeating the cycle of under-investment in skills and the inevitable skill shortages that follow are huge.
Let's make that investment now and help to build a better future.
*This article first appeared in Construction News on 16 September 2020.
Return to top