100 students benefit from new Swansea scaffolding centre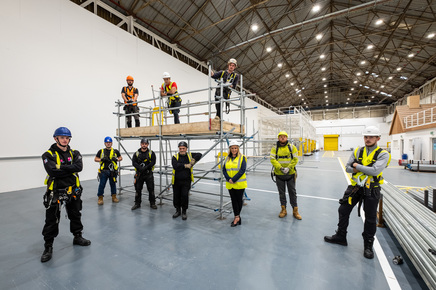 More than 100 learners have passed through the Construction Industry Training Board's (CITB) new Welsh scaffolding centre in its first three months.
The £1.5 million training facility, at the Construction Wales Innovation Centre in Swansea, has both trained students looking to move into the sector and provided a temporary staff welfare hub during the Covid-19 pandemic.
Gareth Wyn Evans, Centre Manager from the Construction Wales Innovation Centre, said: "CWIC's activities have already supported hundreds of employers in the construction industry across Wales. Our unique partnership is delivering world-class training and bespoke programmes for this hugely important sector to the Welsh economy. 
"The new scaffolding academy provides access to leading facilities and expertise and it now gives welsh employers the confidence to develop their employees and to recruit new entrants into the industry."
Gareth Williams, CITB's standards and qualifications policy manager for Wales, said: "This new centre provides training for the essential skills needed to fulfil the ambitious programme of development that due to be completed in Wales over the next few years. The construction industry in Britain needs a quarter of a million new recruits in the next five years, and with scaffolding being among those critical skills, this centre will help to meet that need, also ensuring that students can train locally rather than having to cross the border to England.
"The centre opened during the pandemic, and with construction a key sector it was important that CITB, CWIC and our partners maintain training and continued preparing people for a career in the industry. Despite the lockdown, there have been a lot of applicants to train and plenty of enquiries from people looking to pursue a rewarding career in construction."
Prior to opening, the centre acted as a staff administration and welfare hub for the Swansea Bay Field Hospital, being fitted with welfare pods to allow staff some welcome space to eat and rest while providing critical healthcare at the height of the Coronavirus pandemic.
Since opening in October, some 27 apprentices have completed their studies at the centre, along with 36 students looking to further their studies in the field. With many more students currently working towards their commercial scaffolding qualifications, it is expected that around 350 students will pass through the centre in its first year.
While the centre is currently for the training of apprentices and professional continuing their development, this Spring will see the launch of a "Get into Scaffolding" initiative which will support those looking to change careers, including those who have lost their jobs due to the Covid-19 pandemic, with funded training and work opportunities.
Return to top