SkillBuild champion Sandie soars six years on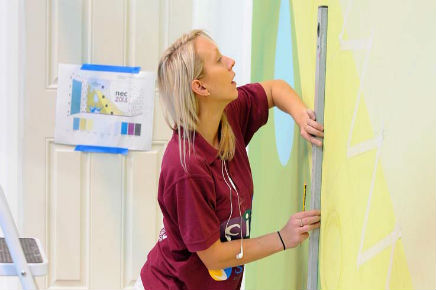 The 2019 SkillBuild UK National Final will take place at the NEC in Birmingham 21-23 November 2019. As we prepare to see who will cross the finishing line victorious, we take a look back at former SkillBuild champion, Sandie Webster from Gainsborough. Sandie, 36, competed in the Painting and Decorating category in 2013 and was the first female National Final winner of any construction trade. Six years on, she explains how the title of National Champion has been instrumental in accelerating her career in construction.
"I wasn't really meant to do painting and decorating - I kind of fell into it. 
I used to do showroom design with kitchens, bedrooms and bathrooms and then, when I left to have my first child, I decided to be a 'stay at home' mum. After having my second child, though, I decided I would go back to college and learn a trade. I thought, 'That'll be easy' but it's really not!
I had two interviews lined up; one for hairdressing and one for decorating. I went to my decorating interview and that was it. Within six months I was entered to compete regionally.
I was doing my level 3 City & Guilds qualification at the time and, ultimately, it was SkillBuild that gave me the confidence to go out on my own and start up my own business, Sandie Webster Painting and Decorating. Competing in front of an audience helps in my day-to-day work. I can adapt to working in front of customers, which would have been quite daunting before.
Since then, my business has gone from strength to strength and expanded, as I've now taken on a full time employee and just started a trainee. 
Opportunities
I had competed previously in SkillBuild, so I like to think of it as third time lucky for me. In the third year I thought, 'I'm just going to go for it' because during the second year I was really poorly and it was the competition that pulled me through a really difficult time. 
To get to the third year and walk away a winner was a big shock and it changed so much in my life. It's really helped me to build vital recognition in my trade. 
For example, I've been approached to do reviews for Professional Builder magazine, so they would send me various products; I'd try them out and write a review.
I've also worked with the Painting and Decorating Association, having met them a couple of years ago whilst I was demoing products. This led to being invited to attend their annual trophy awards ceremony last year, where I had the honour of giving the Inspirational Speech.
Value
Being asked to be a judge for SkillBuild is the top of the top for me. I've been every year since to demo but this year will be the second time I've gone as a judge. It's amazing to go to the regionals and see the competitors – definitely better being on the other side of it!
It's great to be a judge and give advice because I can relate to what the competitors are going through. When it comes to the finals, it's really exciting to see who's got through to the next stage. I suppose it's a bit like teaching - you get to see people's progression right through to the end. 
Without a doubt, if I hadn't done SkillBuild I would never have started out on my own. It's taught me so much and also opened up a lot of doors. There are lots of opportunities at the competition for companies to approach you, which really helps to build a network.
I know now that if I were to apply for a job somewhere, winning my category in SkillBuild would stand out on my CV and make me a much more attractive candidate to an employer.
To anyone considering entering, I'd say just do it. It really is life-changing and does make a big difference for your career".
The SkillBuild UK National Final is delivered by CITB and takes place 21-23 November 2019 as part of WorldSkills UK LIVE. Visit the Go Construct website to find out more. You can also watch a live broadcast from the event.
Return to top